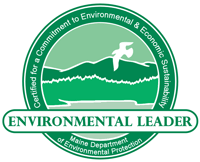 Maine's Environmental Leader Certification
Lodging Businesses
See yearly cumulative savings and environmental impact reductions. (Participating businesses have saved over $10,537 per year in quantifiable electricity reductions, on average!)
The Maine Department of Environmental Protection's Environmental Leader program is a self-guided process offered by the department that encourages lodging facilities, restaurants and grocers to implement selected initiatives from those offered in the department developed workbook to achieve points towards certification.
Lodging businesses, of which there are now more than 100 certified, can earn points for practices such as using biodegradable cleaning supplies; placing recycling bins in guest rooms and common areas; providing refillable amenity dispensers rather than individual containers for shampoo, conditioner, soap and lotion in guest rooms; using water conserving faucets and showerheads; and educating patrons about the facility's green initiatives.
Businesses submit their completed workbook to DEP for review and certification approval, and must increase their point total to be recertified after two years.
As lodging leaders work through the process, staff from the department provide free technical assistance to help participants implement sustainable practices that save money and reduce environmental impact, regardless of whether a business ends up obtaining certification.
In addition to considerable cost savings, businesses are also incentivized to participate by recognition within marketing materials by state tourism and industry associations and by research that shows environmental designations are attractive to customers.
"Our guests are welcomed by Maine's beautiful natural resources. It is important for our business success to protect and preserve our environment," explained Sheepscot Harbour Village & Resort owner Audrey Miller. "As a certified Maine Environmental Leader in hospitality, we have taken the initiative to show that our values are consistent with our guests' values and encourage everyone to join us. We appreciate the Maine DEP's support in this voluntary partnership."
How the program works:
Download the self-certification woorkbook. Note there are now two different workbooks available in different formats:
Complete the self-certification workbook by checking off all of the initiatives that your facility is currently undertaking. If you need assistance filling out the workbook, please call Julie Churchill, 1-800-789-9802. Also see our technical assistance information for workbook points.
Please understand that not all of the items in the workbook are necessary; the workbook is a comprehensive list of the many different ways to generate points. Employing all of the initiatives in this workbook is unrealistic, so please use the ones that you have not yet implemented as recommendations.
Calculate your estimated score by adding up all of the checked boxes.
Send completed workbook to the DEP Assistance Unit
Julie Churchill
Maine Departmental of Environmental Protection
17 State House Station
Augusta, ME 04333

Your workbook will be reviewed and receive a final score.

You do not need to have 100 points to participate in this program. Free technical assistance is available from DEP's Pollution Prevention Program Manager to help any business achieve more points, regardless of point total. Low cost recommendations will be given to help businesses achieve more points.

If your business scores 100 points, your business qualifies for an automatic certification from the state for 2 years. In two years you will need to increase the point total to 130 to be eligible for a free re-certification.

If your business scores less 100 points, your business is eligible for a provisional certification which includes all the benefits of a fully certified business provided you agree to accumulate the remainder of the points within an agreed upon time frame.
Upon final scoring of the workbook, you will be sent an official letter detailing your point total and possible low cost recommendations. You will also receive an electronic Environmental Leader logo that you can begin using for marketing and advertising purposes, and 2 free Environmental Leader decals.
The Pollution Prevention Program Manager will randomly select businesses for verification appointments throughout the year. These visits will be scheduled and not "unannounced".