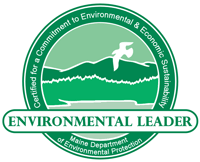 Maine's Environmental Leader Certification
Grocery Stores
The Maine Department of Environmental Protection's Environmental Leader program is a self-guided process offered by the department as part of its Pollution Prevention program that encourages lodging facilities, restaurants, and grocers to implement selected improvement initiatives from those offered in the department-developed workbook to achieve points towards certification. Grocers can earn points for practices such as adopting and posting an environmental policy, selling a percentage of local and/or organic foods, installing energy-efficient refrigeration equipment, having a posted anti-idle policy in delivery bays and educating patrons about the store's green initiatives.
Businesses submit their completed workbook to DEP for review and certification approval, and must increase their point total to be recertified after two years.
As businesses work through the process, staff from the department's Sustainability Unit provide free technical assistance to help participants implement sustainable practices, save money and reduce their environmental impact, regardless of whether they end up obtaining certification.
In addition to considerable cost savings, businesses are also incentivized to participate by recognition within store signage and marketing materials and by research that shows environmental designations are attractive to customers.
The Environmental Leader program engages grocers in DEP's core priority of protecting our natural resources while ensuring a vibrant and sustainable economy. Grocers who participate are seeing significant energy cost savings that are leading to increased profitably, allowing them to invest in infrastructure improvements and expansion of their workforce. And by selling locally-sourced food, they are also helping to grow the businesses of those local producers too. This program is yet another example of what is good for the environment being what is good for the economy.
How the program works:
Download the self-certification workbook (MS Word format workbook) or (pdf workbook) or contact the office to obtain a copy.
Complete the self-certification workbook by checking off all of the initiatives that your facility is currently undertaking. If you need assistance filling out the workbook, please call Julie Churchill, 1-800-789-9802. Also see our technical assistance information for workbook points.
Please understand that not all of the items in the workbook are necessary; the workbook is a comprehensive list of the many different ways to generate points. Employing all of the initiatives in this workbook is unrealistic, so please use the ones that you have not yet implemented as recommendations.
Calculate your estimated score by adding up all of the checked boxes.
Send completed workbook to the DEP Assistance Unit
Julie Churchill
Maine Departmental of Environmental Protection
17 State House Station
Augusta, ME 04333

Your workbook will be reviewed and receive a final score.