The Department of Administrative and Financial Services, Division of Procurement Services and Office of Information Technology ("Department") have contracted with Knowledge Services, dba Guidesoft, https://www.knowledgeservices.com/ 5875 Castle Creek Parkway, Suite 400, Indianapolis, IN 46250 to provide an Information Technology (IT) Managed Staffing Program (MSP) under the NASPO cloud solutions contract using the dotStaff™ application. 
The managed staffing program contract delivers time and materials IT staff augmentation services and fixed price statement of work solutions.  The MSP solution manages and administers an IT supplier network, a vendor management system, and the IT staff augmentation process.  The MSP contract provides cost savings and process improvement benefiting the State.  The MSP operates a full services model which includes an on-site contract team, consultation with Department staff, managing and mentoring of the supplier network, and flexible candidate screening process. 
This statewide Master Contract may be used by all government agencies of the State of Maine; State boards, quasi-state government entities, political subdivisions of the State of Maine such as towns, cities and counties; and Maine educational institutions, such as public school districts, state universities, and public colleges. 
For more details on the State of Maine Managed Staffing Program contact Brian Whitley and Katy White via Email; memsp@knowledgeservices.com or Phone: 207.624.9728, (www.knowledgeservices.com); or  Thomas Howker via Email; Thomas.n.Howker@maine.gov or Phone: 207.624.8878.
---
User Guides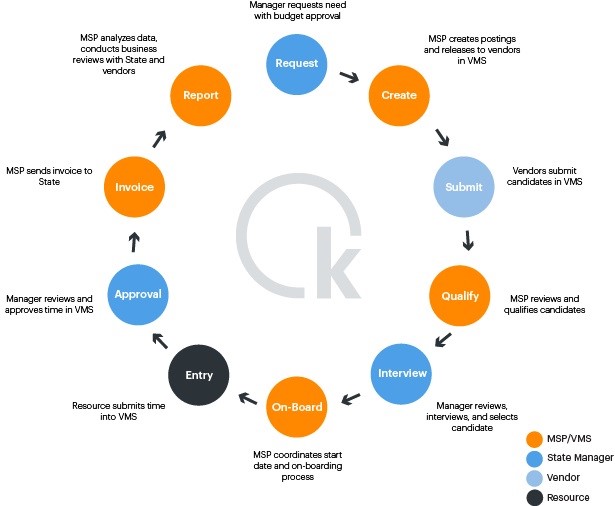 ---
Contract Documents
Knowledge Services Vendor Network Contract
State of Maine Rate Card - Effective October 15, 2020
---
Other
---
Historical Documents