Forest & Shade Tree - Insect & Disease Conditions for Maine
August 19, 2011
Mainers Urged to Sign Up for Free Disposal of Banned, Unusable Pesticides
It's not uncommon for new owners of older homes or farms in Maine to discover they have inherited hazardous waste—caches of old pesticides around their property. Old chemicals like DDT, lead arsenate, 2,4,5-T, and chlordane are often discovered in barns, basements, sheds, or garages. When these discoveries are made, homeowners quickly learn that disposal of old chemicals can be complicated and very expensive.
Fortunately, there's an option that's legal, responsible, and free. Just contact the Maine Board of Pesticides Control (BPC) for details. This fall, the state regulatory agency will dispose of banned pesticides or pesticides that have become caked, frozen, or otherwise rendered unusable. And, again, there is no cost to homeowners.
Homeowners are urged to contact the BPC as soon as possible to register for the free disposal program. There will be four drop-off sites throughout the state. Preregistration is required by September 30, 2011. To register, get details, and learn important information about the temporary storage and transportation of obsolete pesticides, go to the BPC Web site at http://www.thinkfirstspraylast.org

. Or, call the BPC at 287-2731. (Excerpt from BPC press release 8/18/2011)
Insects
*Fall Webworm (Hyphantria cunea) – The webs made by fall webworm larvae are apparent now especially in southwestern Maine. The further north you go the fewer webs you see. Fall webworms are particularly fond of ash, apple, cherry and birch but you can find them on other hardwoods as well. The larval feeding on the leaves does little damage to the health of the tree and is primarily an esthetic problem.
Hickory Tussock Moth (Lophocampa caryae) – The fuzzy white caterpillars with black tufts can be found wandering looking for a place to spend the winter. Hickory tussocks overwinter in grey fuzzy cocoons under the leaf litter. There are more of these caterpillars around than in most years. The larvae feed on a number of hardwood trees; in Maine it is most often birch, quaking aspen, basswood and black locust. The caterpillars do little damage to the trees but both they and the cocoons can cause a rash in sensitive individuals.
Saddled prominent/green striped mapleworm/variable oakleaf caterpillar complex (Heterocampa guttivitta, Dryocampa rubicunda, Lochmaeus manteo and others) – The saddled prominent complex of hardwood defoliators are native species of caterpillars that tend to occur together. Outbreaks occur every ten years or so and the last one in Maine was in 2005-06 in parts of Cumberland County. Larvae and some light defoliation were reported from Franklin County and stray larvae have been found across the state. This is a late season defoliator and generally causes little damage as long as the outbreak is not long or too severe. This complex usually increases for 2-3 years and then subsides.
Saddled prominent caterpillars are green, smooth, pointed rear end with a reddish 'saddle' across their mid-section. Green-striped mapleworms are green with white strips. Variable oakleaf caterpillars have large heads with green, white and reddish markings.
Diseases and Injuries
Imprelis Herbicide Recall – DuPont was ordered by the Environmental Protection Agency to stop selling and to recall Imprelis herbicide. Use of the broadleaf weed herbicide on turf has been linked to damage and mortality to conifers including Norway spruce, white pine and many other species.
Maple Foliage Diseases – Several maple foliage diseases have been prevalent and causing some concern throughout central and southern Maine. Tar leaf spot seems to be an annual problem now on Norway maples. Leaves of red, silver, and sugar maples have also been damaged to varying degrees by anthracnose fungi and, to a lesser extent, tar leaf spot. Wet weather conditions during May were highly conducive to leaf infection by these pathogens in many regions of the state. Noticeable leaf curling and leaf drop have been reported on ornamental maples in Kittery, Portland, Lewiston, Auburn, Rockland, Lincoln, and Millinocket during late July and August. Leaf spot and anthracnose diseases rarely cause significant long-term damage. Nearly all trees inspected have shown good bud development and are expected to leaf out normally next spring. Sanitation practices such as thorough raking and composting or removal of the shed leaves are prudent. Disease intensity next spring will depend largely on weather conditions which favor infection, more so than on inoculum level. It is unrealistic to expect a complete absence of these diseases, even when sanitation practices and fungicide applications are used.
Summary of 2011 White Pine Needle Collection - A regional survey to clarify the range and identity of the pathogens associated with white pine needle cast diseases was organized by Isabel Munck, USDA Forest Service Pathologist, in cooperation with the Maine Forest Service, the Vermont Department of Forests, Parks and Recreation, and the New Hampshire Division of Forests and Lands.
Samples were collected from 6/14/2011-6/22/2011 from five sites in Maine (Augusta, Bethel, Leeds, Lyman, and Sangerville), six sites in New Hampshire (Blackwater, Cloush, Fox, Hillsboro, Hopkinton-Everett, and Mast Yard), and three sites in Vermont (Lyndon, Springfield, and Waterbury). At each site, branch tips from at least three and up to five trees were collected. All branch tips were examined for fruiting bodies and symptoms. Needles from one representative branch tip per tree were incubated for at least 24 hr in a moist chamber at 25 ?C. Fruiting bodies on these needles were examined with the aid of dissecting and light microscopes and photographed. Additional samples were collected from two sites in Vermont, Bethel and Brookfield, on July 11 2011.
The most common symptom observed in most samples collected in May was necrosis. Most needles looked healthy but affected needles had tips or a greater portion of the needles that were dead (Figure 1).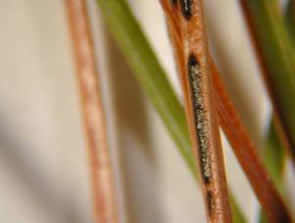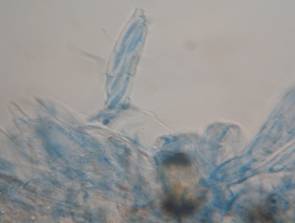 Figure 1. Necrosis and Bifusella linearis fruiting bodies on white pine from Mast Yard, New Hampshire. Bifusella fruiting bodies are shiny and black and the ascospores are constricted in the middle.
In contrast, the most common symptom from June samples was chlorosis, yellowing needles, and defoliation. The most frequently observed pathogen on the June samples was Mycosphaerella dearnessii, the pathogen that causes brown spot (Table 1). Brown spot was only observed on a few of samples from the May collection. Brown spot was associated with the yellowing and defoliation observed on many samples collected in June (Figures 2 and 3).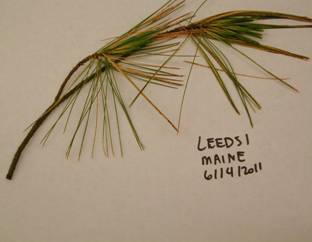 Figure 2. Chlorosis and defoliation on white pine from Leeds, Maine. The photo is courtesy of the USDA Forest Service, Northeastern Area, State and Private Forestry, Durham, NH.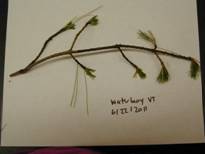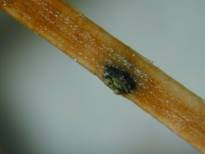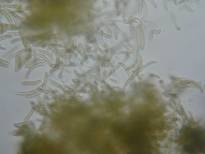 Figure 3. Defoliation and brown spot fruiting bodies and spores from white pine collected in Waterbury, Vermont. Photos are courtesy of the USDA Forest Service, Northeastern Area, State and Private Forestry, Durham, NH.
Canavirgella was observed on samples from one site in each state: Sangerville, ME; Blackwater, NH; and Lyndon VT (Figure 4). Bifusella was observed in samples from two sites in Maine (Augusta and Lyman) and two sites in New Hampshire (Hillsboro and Mast Yard). The three pathogens can co-occur at the same site. For example, brown spot and Bifusella and were observed in May samples and Canavirgella was observed in June samples from Lyndon, VT. Similarly, Bifusella and brown spot co-occurred in Bethel, VT and two sites in Maine, Augusta and Lyman.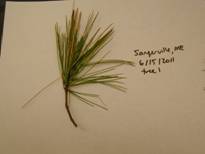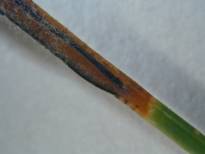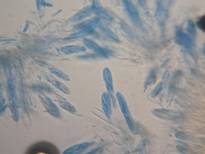 Figure 4. White pine from Sangerville, Maine with Canavirgella fruiting bodies and ascospores. Unlike Bifusella, Canavirgella ascospores are not constricted in the middle. Canavirgella fruiting bodies are gray and imbedded in the needle. Photos are courtesy of the USDA Forest Service, Northeastern Area, State and Private Forestry, Durham, NH.
Table 1. Summary of white pine needle samples collected in June 2011 positive for each pathogen.
Location

Bifusella
linearis

Mycosphaerella
dearnessii

(Brown spot)

Canavirgella
banfieldii

Grand Total

ME

7

17

1

25

Augusta

5

1

6

Bethel

7

7

Leeds

3

3

Lyman

2

2

4

Sangerville

4

1

5

NH

3

9

1

13

Blackwater

3

1

4

Cloush St Park

Fox

3

3

Hillsboro

1

1

Hop-Eve

3

3

Mast Yard

2

2

VT

6

1

7

Lyndon

1

1

Springfield

2

2

Waterbury

4

4

Grand Total

10

32

3

45
---
Conditions Report No. 5, 2011
Maine Forest Service
Forest Health and Monitoring