Adjacency Rules
Last Updated: May 2, 2019
How does the adjacency principle work?
The LUPC is proposing to update the adjacency principle, which is an initial screen for where new zones for development of a residential subdivision or new business can be created. This screen is just the first step – the rezoning process still applies and permits would still be required for most uses. The adjacency principle guides most development toward existing development and away from undeveloped areas. This helps lower tax burdens, ensures land remains available for forestry, agriculture and recreation, and promotes the health of existing communities.
Right now, new zones for subdivisions and businesses in the UT must locate within one road mile of similar existing development, like an existing business or a cluster of camps.
The one-mile rule of thumb: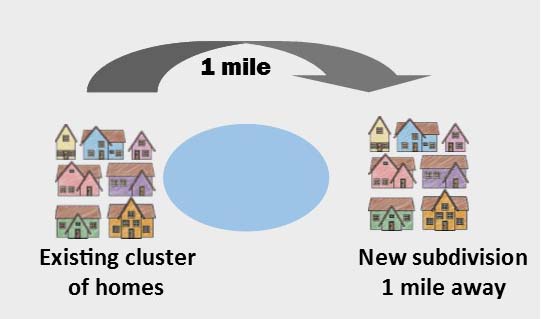 Why change?
The one-mile test is a blunt planning tool, long-recognized as needing improvement. Existing, dispersed development can provide a springboard for new development into remote areas or onto undeveloped lake shores. This can affect the cost of providing public services (e.g., fire protection, ambulance) and impact forestry operations, wildlife habitat and the character of the UT.

The economy in the Maine woods is changing; we must plan for the future. Recreation-based businesses and new types of wood fiber processing operations sometimes have difficulty finding suitable locations that are near the resources they need and also within one road mile of similar development. Existing development may not be in locations needed to support the evolving economy while still protecting the environment.
We can do better. Thoughtful, well-planned refinement of the adjacency principle can better: support local and regional economies, protect the environment, respect private property rights, and ensure what we value about the UT continues for generations to come.
What are key objectives of the current proposal?
Guide new development near town. Instead of basing new zones on existing development – which may be remote – focus rezonings to areas within mile of a public road and within seven miles of rural hub communities that provide services. In townships and plantations directly abutting a rural hub, some zones for residential subdivision could locate within five miles of a public road.
Limit new development farther from town, while recognizing the changing economy. Limit rezonings farther from rural hubs to types that depend on proximity to natural resources or are connected to recreation.
Continue to protect the environment and natural resources. New development zones would not be allowed on undeveloped or lightly developed lakes, even if within one mile of existing development. Existing requirements that any rezoning not have an undue adverse impact on the natural resources, along with all environmental permitting standards, remain in place.
Improve predictability of rezoning for property owners and the public. Locations where rezonings could be considered would be tied to predictable factors such as the location of designated rural hubs and public roads, instead of to a shifting pattern of scattered development. This makes planning for the future easier.
Will all areas eligible for rezoning be rezoned and developed?
No. Forty years of experience tells us that most areas eligible for rezoning consideration will not be rezoned. That is, and will continue to be, the case. Environmental characteristics of a property, conservation easements, market conditions, and landowner intent, among other factors, will continue to shape and limit the demand for rezoning. The goal is to improve the system for guiding the location of new development so that when new development opportunities are pursued, they are pursued in the best locations.
Draft Rule Language and other Rulemaking Materials
Date
Description
Materials

April 2, 2019

Commission Meeting: deliberation on proposed rule revisions

January 23, 2019

Public comment

Audio recording of January 10, 2019 public hearing

Compiled written comments and rebuttal comments submitted between December 19, 2018, and February 1, 2019:

December 14, 2018

Public Hearing Notice

November 14, 2018

Commission Meeting: posting draft rules for public hearing and comment period

October 10, 2018

Commission Meeting

Additional written comments on first draft received between:

March, 2016 – September, 2018

All information related to review of the adjacency principle

On the resources page, you will find:

First draft of adjacency rules
Public comments on first draft
Commission meeting materials
Background information generated during the process (e.g., public survey, maps, diagrams, and more)