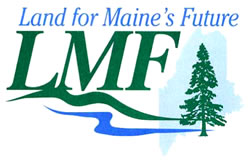 Applying for Funds
On this page:
---
Who is Eligible
An application to LMF requires sponsorship from a suitable state agency. An application must include full knowledge and agreement from the landowner that their project is up for consideration for LMF funding.
Funds often assist land trusts, municipal conservation commissions, local governments, private nonprofit charitable organizations, state agencies, and private foundations.
Types of Funding
Conservation, Recreation and Farmland Funds
LMF funds assist with the acquisition of land or interest in land to:
Provide outdoor recreation opportunities
Provide access to Maine waters
Support vital ecological or conservation functions and values
Conserve rare, threatened, or endangered natural communities, plants, or wildlife habitat
Conserve areas of scenic interest and prime physical features
Conserve farmland and open space
Protect deer wintering areas
After funds are approved by voters, the Land for Maine's Future Board issues a call for proposals. Proposals are reviewed for completeness by staff and scored and nominated by working committees of the board. After public notice, the LMFB votes on finalists for funding.
2021 LMF Proposal Workbook (PDF), Board Adopted Policy and Guidelines, October 2021
Public Water Access to Maine Waters Fund
Application for water access projects may submitted at any time so long as funding is available.
The Public Access to Maine Waters Fund is designed to 'get people to the water.' The board will accomplish this by acquiring fee simple of public access rights on small parcels of land to create or enhance access points to lakes, ponds, rivers, and coastal waters. Land for access could support a facility for trailered boats, or small, hand-launched craft (canoes, kayaks) and provide bank fishing, swimming, clamming, worming, or other water contact opportunities. Access is primarily intended for general public use.
LMF Proposal 2021 Workbook: Section III: Public Access to Maine Waters (PDF)
Working Waterfront Access Protection Program
Through a competitive application process matching funds are available to assist commercial fisheries businesses, co-ops, municipalities and other interested parties in securing strategically-significant working waterfront properties to protect vital resources that support commercial fisheries. Funds can be used to purchase property, or for the purchase of access easements, rights of way, or development rights to preserve walk-in or small boat access, properties entirely dedicated to commercial fisheries uses, or mixed use properties.
DMR sponsorship is required.
Annual Reporting
Cooperating Entities acquiring land or an interest in land using LMF funds are required to provide an annual report to LMF and the sponsoring state agency. This helps ensure that the ongoing use and management of the land is consistent with the purposes of LMF funding.