COVID-19 Related Camping & Day-use Updates
Updated: June 15, 2021.
COVID precautions and what to expect when you visit the beaches and parks:
Maine lifted all capacity limits and requirements to physically distance in all public outdoor settings.
Face coverings, capacity limits and physical distancing are required within State of Maine buildings when not alone or with your family unit regardless of vaccination status. All non-fully vaccinated people should continue to wear masks indoors.
Maine no longer requires proof of a negative test or quarantine for travelers to the state.
We will monitor conditions and make changes to policies as necessary. We need your cooperation, so thanks for your patience and support! Visit Look Out for ME for travelers updates.
Camping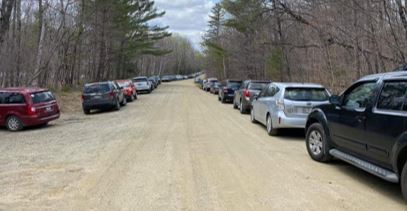 Plan a back-up location to visit. Help stop overcrowding as seen here at Tumbledown Mountain Public Land.
Day-Use
All Maine Public Lands trails, and roads remain open, unless posted otherwise. State Park and Public Land use is open to all visitors.
Some of our Public Lands are receiving heavy use. The Maine Trail Finder is a good resource for identifying lesser-known trails.
Now is not the time to take risks
Know what's close to home: Consider visiting a nearby Wildlife Management Area, or a less-trafficked state park or public land, or local land trust. Maine Trail Finder is a great resource for finding locations. Check the local conditions and have a plan B in case your first destination has a busy parking lot. Text to subscribe to the Maine Bureau of Parks and Lands condition alerts and news.
Don't take risks: Stick to more accessible terrain to avoid injuries, which add stress on first responders and medical resources.
Pack snacks and water: Don't rely on shopping for supplies and food in destination communities; be prepared with everything you need when you leave home, and practice Leave No Trace outdoor skills.
Dress for success: Regardless of the season in Maine, trails can be wet, muddy, or slippery; bring appropriate gear to match the conditions. Local outdoor brands are open for online sales and are available to advise on proper clothing and equipment.
Weather and conditions: Especially further north and in the mountains, can still be variable with cold water, cold temperatures, and snow/ice present at times and in places at higher elevations. Gravel logging roads may be muddy and vulnerable to damage from vehicles.
Phones: Remote locations throughout Maine's woods may have limited or no cell phone coverage. Plan ahead and be prepared.
Watch out for ticks: During tick season (early spring through early winter) wear light-colored pants, closed-toe shoes, and apply EPA-approved bug repellent. Learn how to protect yourself from ticks and tick-borne diseases.
Additional guidance: Visit Look Out for ME for travelers updates.
Visit our website and follow our social media platforms for updates. Please follow Facebook, Twitter, and Instagram.
For specific questions, please contact 207-287-3200 or e-mail DACF@maine.gov.