Mental Health Treatment Services
Structured, evidence informed and evidence-based behavioral health services are available to all residents in our adult corrections facilities through a contract with Wellpath. Wellpath strives to ensure all programming and treatment is trauma informed, gender responsive, and individualized. Residents are screened and assessed for behavioral health needs during intake and reassessed regularly throughout their incarceration on an as needed basis.
Sex Offender Assessment & Treatment
All sex offenders are screened upon intake to identify static and dynamic factors relevant to their treatment and management, and are reassessed on a regular basis during the course of programming. Those offenders identified as needing treatment and being appropriate for services receive intensive, evidence-based treatment at Maine Correctional Center or Mountain View Correctional Facility. Those offenders qualifying for a pre-release placement participate in Sex Offender Aftercare Programming Recovery Model (e.g., check-ins, process groups, self-guided assignments, relapse prevention planning, building support networks, etc.).
Substance Abuse Treatment & Recovery
The Maine Department of Corrections (MDOC) offers substance abuse treatment programs at all its secure adult facilities, including the Maine State Prison (MSP), Maine Correctional Center (MCC), Mountain View Correctional Facility (MVCF), and Women's Center (WC). Additionally, programs are offered at the Bolduc Correctional Facility (BCF) and Women's Reentry Center (WRC). The Department partners with Wellpath and Day One to provide these services.
The Department has two residential substance abuse treatment programs for male residents, the Correctional Recovery Center at the Maine Correctional Center (MCC) and the Substance Abuse Unit at Mountain View Correctional Facility (MVCF). Additional treatment programs offered across MDOC facilities are conducted on an outpatient basis.
Recovery Coach Program
The Maine Department of Corrections (MDOC) Recovery Coach Program is designed to help offenders who have experienced problems with their use of alcohol and drugs. Offenders who have been trained as Recovery Coaches in the Connecticut Community for Addiction Recovery (CCAR) model help program participants plan and make positive changes in their lives, including preparing for life after release. The MDOC Recovery Coach Program is person-centered and strengths-based. The Deputy Chief Administrative Officer (CAO) and facility staff provide support for the program at each facility where the program is offered.
The MDOC Recovery Coach Program honors all pathways of recovery, including faith-based and 12-step-based recovery paths. The program recognizes that trained peers – Recovery Coaches – are especially important in helping offenders initiate and maintain their recovery.
The Need for Substance Abuse Treatment in MDOC Facilities
Number of Male Drug Related Admissions by Year.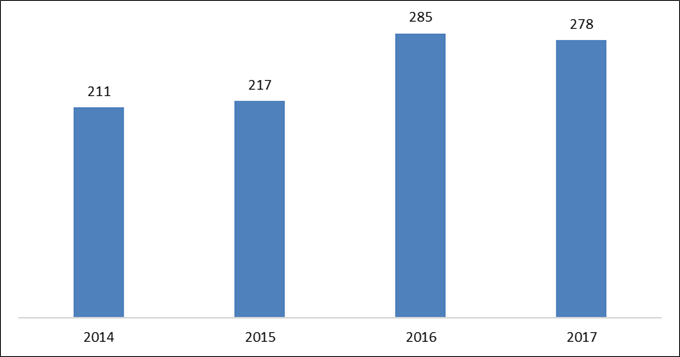 Number of Female Drug Related Admissions by Year.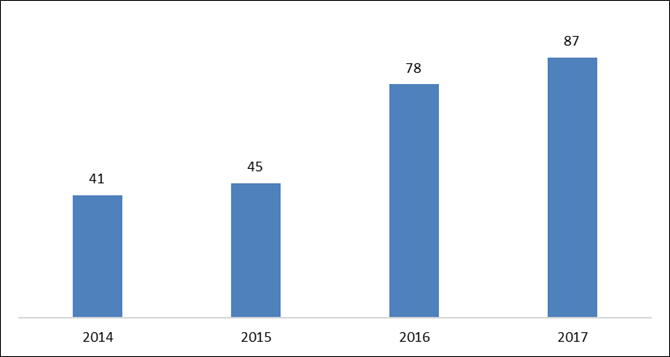 Substance abuse treatment recommendations for admitted male offenders in 2017.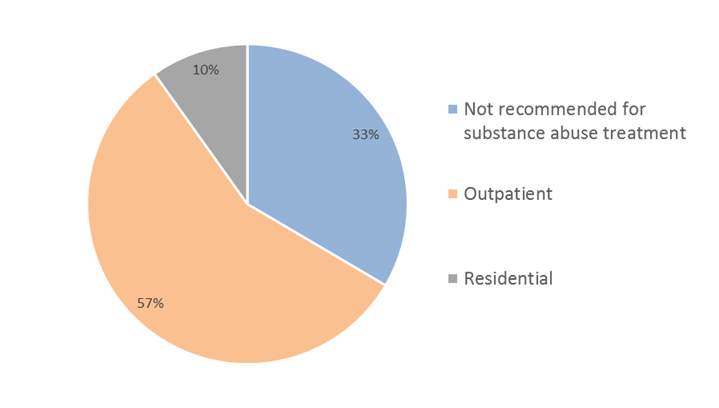 Substance abuse treatment recommendations for admitted female offenders in 2017.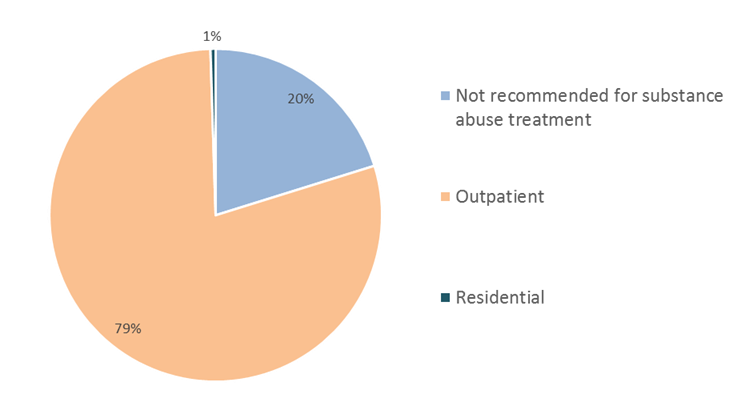 *Due to low assessed need, MDOC does not offer residential substance abuse treatment for women.
Cognitive Behavioral Treatment Programs
Offenders are assessed upon intake into the Department using LSI-R, which is utilized to collaboratively develop an individualized and meaningful case plan to address the offender's high risk and high need areas identified through the assessment process. This includes placement into appropriate Cognitive Behavioral Treatment (CBT) programs and services, including Thinking for a Change.Cognitive Behavioral programs such as Thinking for a Change are designed to equip a participant to recognize risky, inaccurate, or negative thoughts and thought patterns, replace them with positive, healthy thoughts, and develop the ability to apply specific coping strategies when encountering difficult situations. Cognitive Behavioral programs emphasize skill training with directed practice, in which participants practice real life situations and scenarios they may encounter in the future in order to practice and learn new, pro-social behaviors. The Department offers CBT programs at all its facilities.
Below is the most recent snapshot of key programs offered across our Adult Facilities.