Susan Corbett: Improving Business and Medicine in Machias and Beyond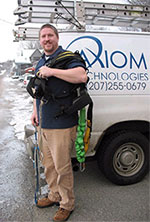 When Susan Corbett moved her medical billing business to Jonesport in 1998, she had a problem. Her internet-intensive business needed more access at higher speeds than available. "Why can't we do this ourselves?" she asked. Today, she owns Axiom Technologies, a local telecommunications company supported with ConnectME funding, that began in 2005 to provide wireless, high-speed broadband service over a 2500-mile stretch of Downeast Maine previously unserved. "Our mission," she says, "is to provide broadband to the unserved homes and businesses in Washington County and rural Maine. We will not stop until this is accomplished!"
What kinds of good things became possible as a result? Axiom received a federal grant part of which was to encourage and support broadband-related education and employment in Washington County. Soon, a distance-learning program for nurses was in place. "Today," Susan says, "the College of Nursing and Health Professions in Lewiston, ME is transmitting via video conferencing an RN course to Downeast Community Hospital in Machias, so that a 25 bed, critical care hospital is now a teaching facility." That's what broadband can do for your community.
Steve and Katie Shaffer, Black Dinah Chocolatiers, Isle au Haut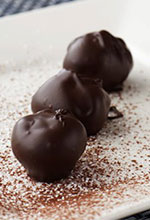 How do you do business as a chocolatier when you live on a small island of about 40 year-round residents 45 minutes by ferry to the mainland? "We couldn't without broadband." says Steve Shaffer, co-owner with his wife, Katie, of Black Dinah Chocolatiers. We have a shop and café open during the season, but 75% of our sales are over the internet, to places like California, which is one of our top 5 shipping destinations. Because we don't see our customers directly, it's so important for us to be able to communicate with them through Facebook, our blog, and our website."
The Shaffers, not only as business owners but as a family, are strong believers in the traditions of island life and living, and that supporting services like broadband through ConnectME grants to pay for expensive infrastructure is worth it. "We would have had to leave without it," says Steve, "but now we can stay and grow."