Cross-country skiing

Fishing

Hiking (trails)

Off-road biking

Snowshoeing

Watchable wildlife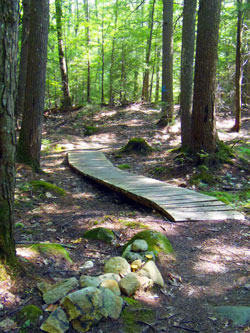 Description
Located about four miles east of the center of the town of Grey, Pineland Public Land includes more than 600 acres in Gray, North Yarmouth and New Gloucester. The forests, along with the nearby agricultural fields that are now privately owned, once supplied the needs of the Pineland Center. Now, this tract of undeveloped forest helps fill the growing need for open space and outdoor recreation in populous Cumberland County.
At Pineland, the pleasing landscape of forests over rolling hills invite hikers to explore. The trailhead on Depot Road provides parking and access to two hiking trails through ever changing woodlands. The variety of habitats provide the opportunity for visitors to see quite a range of wildlife. Upland species include white-tail deer, red fox, snowshoe hare, red squirrel, gray squirrel, ruffed grouse, woodcock, and wild turkey. Where the forests meet the fields, more than 8 miles of edges provide especially valuable habitat for many animals, including bluebirds, meadowlarks, and kestrels.
To learn about Mayall Mills see the History section below.
If you are interested in learning about geology around the state, check out the Maine Geological Survey Searchable Database.
Land for Maine's Future This property was acquired in part with funds from the Land for Maine's Future program. For more information about the LMF program and the places it has helped to protect, please visit the LMF webpage.
History
Mayall Mills
Although the Mayall Mill site is not officially a State Historic Site, it is owned by the Bureau of Parks and Lands as part of Pineland Public Land. Established by Samuel Mayall in 1791 in a small wooden building, this area grew to an operation based on the production of two large brick mills powered by the waters of Collyer Brook. Mayall first chose this area because of an abundance of sheep among farms in the region and the working grist mill here that he leased and converted to woolen manufacturing. He later purchased the mill before expanding the operation. At its peak, Mayall Mills employed 20 people and produced 30,000 yards of woolen cloth in a year. When Samuel died in 1831 his daughters took over the mills and eventually leased the buildings to other milling managers. The mills ceased operation in 1903.
Learn more about Mayall Mill history; includes illustrations.
Driving Directions
From Gray, take the Lewiston Road (Route 202) and turn right onto the Mayall Road. The mill site is approximately one mile on the left at the intersection of the Megquier Road.
Activities
Cross-country skiing
Fishing
Hiking (trails)
Off-road biking
Snowshoeing
Watchable wildlife
Rules
Consider lending a hand. Contact us if you would like to help with stewardship or maintenance work.
Trails
View the corridor trail map that connects Pineland to Bradbury Mt. State Park Pineland Public Reserved Land map at Maine Trail Finder.
Services and Facilities
When to Visit
Open All Year
Location
Gray and New Gloucester, Maine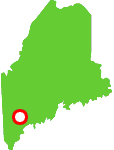 Contact
Bureau of Parks and Lands
Western Public Lands Office
PO Box 327
Farmington, Maine 04938
(207) 778-8231

Current Weather
Directions and Parking