Boating (motorized)

Camping

Canoeing

Cross-country skiing

Fishing

Hiking (trails)

Snowshoeing

Swimming

Campground

Food service

Group picnic shelter

Playground

RV dumping station

RV hookup (electric and water)

Showers

Trailered boat launch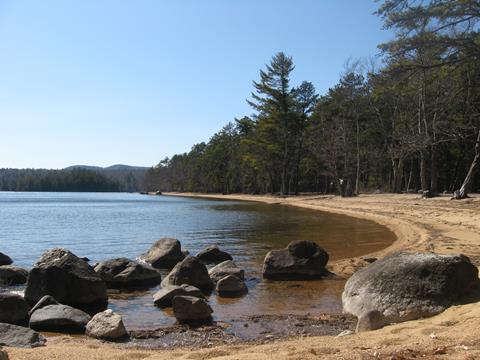 Description
Location
Campground Entrance: Lat 43.929666 / Lon -70.583851; 3 Campground Lane, Naples, Maine 04055
Day-use Entrance: Lat 43.989129000 / Lon -70.696029000; 11 Park Access Road, Casco 04015
Hours/Season Open year-round; 9:00 a.m. to sunset daily unless otherwise posted at the gate. Fee collected year-round at entry booth by staff or self-service station.
Sebago Lake State Park opened to the public in 1938 as one of the five original state parks. This forested lakeside park is situated on the shore of Maine's deepest and second largest lake which provides year-round recreation for thousands of visitors each year. Near the foothills of the White Mountains, the park's 1,400 acres features sandy beaches, extensive woodlands, ponds, bogs a river and diverse habitat for a wide variety of plant and animal life.
Swimming, sport fishing, camping and boating are some of the summer activities enjoyed by visitors. The park's 250-site campground is a popular destination for family vacationers and provides lasting memories season after season. Wooded areas offer a respite from the sun and activity on the beaches. Whether hiking on marked trails or bicycling on park roads, visitors find many way to enjoy the park. The park also operates the historic Songo Lock.
Carved by ancient rivers and scoured by Ice Age glaciers, Sebago Lake fills a basin made of granite that has been weathered for millions of year. Thanks to those glaciers, visitors today an enjoy an array of water sports on Maine's 45 square mile lake. For a guided tour of the of the geological features visit The Geology of Sebago Lake State Park.
Land for Maine's Future This property was acquired in part with funds from the Land for Maine's Future program. For more information about the LMF program and the places it has helped to protect, please visit the LMF webpage.
The Land and Water Conservation Fund contributed to this State Park. Learn more about LWCF.
Activities
Boating (motorized)
Camping
Canoeing
Cross-country skiing
Fishing
Hiking (trails)
Snowshoeing
Swimming
Rules
Consider lending a hand. Contact us if you would like to help with stewardship or maintenance work.
Trails
Trail Activities & Conditions for Sebago Lake State Park.
Tours and Programs
View the Maine Parks and Lands EVENT CALENDAR
Services and Facilities
Campground
Food service
Group picnic shelter
Playground
RV dumping station
RV hookup (electric and water)
Showers
Trailered boat launch
Special Considerations
Moving firewood can transport exotic insects & diseases that pose a serious threat to our forests. Don't transport firewood, buy it from a local source. Buy It Where You Burn It
Location
Casco and Naples, Maine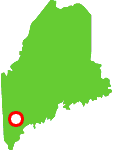 Fees
current fees
camping reservations
park passes
Contact
Sebago Lake State Park
11 Park Access Road
Casco, ME 04015
Campground in-season: (207) 693-6613
Office: (207) 693-6231

Maps
download Campground Maps webpage (webpage - all maps)
download Campground Photos on Google Earth (launch Google Earth 1st)
download Group Camping & Day Use Area map - black & white (764 KB/pdf)
download Pine Grove Group Picnic Area map - black & white (312 KB/pdf)
Current Weather
Directions and Parking
U.S. Route 302 between Naples and South Casco
Relevant Contacts