Boating (motorized)

Canoeing

Cross-country skiing

Fishing

Hiking (trails)

Hunting

Self-guided trail

Snowmobiling

Snowshoeing

Swimming

Watchable wildlife

Group picnic shelter

Picnic area

Playground

Trailered boat launch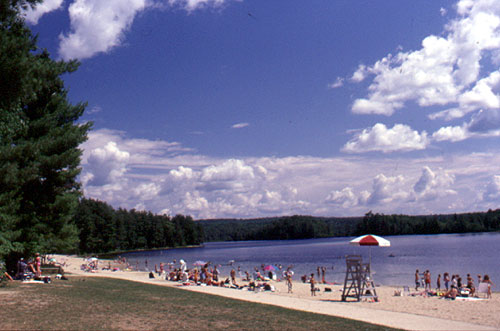 Description
Location Lat 44.038031 / Lon -70.342181 (26 State Park Rd., off the Empire Rd. in Poland.)
Hours / Season Open all year; 9:00 a.m. to sunset daily unless otherwise posted at the gate. Visitors may continue to enjoy the park during the off season by parking outside the gate, - without blocking it - on the days it is closed, and walking in during these same hours. Please be aware that facilities are closed during the off season.
Fee charged year-round at entry booth by staff or self-service station.
A short drive from one of Maine's major urban areas, Lewiston and Auburn, Range Pond State Park welcomes visitors who enjoy the wide sandy beach as they swim, picnic and play. Most activity centers on the waterfront which is easily accessible because of the smooth, surfaced promenade that parallels the pond for 1000 feet immediately next to the beach.
A resource room and group picnic area is available for rental.
Watersports are popular activities; small boats, canoes, kayaks and windsurf boards dot the horizon. A public boat launch site is located at the end of the beach and is limited to 10 horsepower motors. Stay advised about Maine Lake Ice Out dates at www.maine.gov/dacf/iceout.
Leisurely walks are a must on the two-miles of easy trails comprised of old logging roads and railroad beds. A new group shelter, playground, and handicap accessible enhancements have been completed.
If you are interested in learning about geology around the state, check out the Maine Geological Survey Searchable Database.
The Land and Water Conservation Fund contributed to this State Park.Learn more about LWCF.
Activities
Boating (motorized)
Canoeing
Cross-country skiing
Fishing
Hiking (trails)
Hunting
Self-guided trail
Snowmobiling
Snowshoeing
Swimming
Watchable wildlife
Rules
Consider lending a hand. Contact us if you would like to help with stewardship or maintenance work.
Tours and Programs
View the Maine Parks and Lands Event Calendar
Ring's Marine, beginning June 23, will offer canoe, kayak, and paddle board rentals at Range Pond State Park on Fridays, Saturdays and Sundays between 10:00am and 5:00pm, weather permitting.
Services and Facilities
Group picnic shelter
Picnic area
Playground
Trailered boat launch
Location
Poland, Maine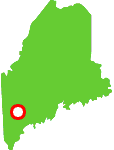 Fees
Contact
Range Pond State Park
P.O. Box 475
Poland, ME 04274
(207) 998-4104
Lat 44.038031 / Lon -70.342181 (26 State Park Rd., off the Empire Rd. in Poland.)

Current Weather
Directions and Parking
Just off the Empire Road in Poland. The Empire Road is approached from Maine Route 122; take Route 26 north from Gray, or Route 202 south from Lewiston which will connect with Route 122
Relevant Contacts