Next Step Hunting Programs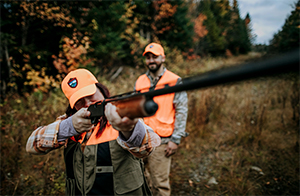 Learning to hunt is a lifelong journey. No matter if you are just starting out or have been hunting for years, there is always something to learn.
These Next Step workshops were designed to help all hunters take their skills to the next level. Classes are offered in the following three areas:
Introduction to Firearms: Under the supervision of Recreational Safety Coordinators, Range Safety Officers, and trained staff, learn to safely use and care for a variety of firearms and hunting implements.
Learn to Hunt: From understanding the laws to figuring out the best gear for you, there's a lot to learn when it comes to hunting. The Learn to Hunt workshops breakdown the essentials to get you out hunting safely and successfully.
Outdoor Safety & Survival: Before heading afield to hunt, hike, fish, or explore, learn the basics of map & compass, survival skills, shelter building, and more.
Classes are offered virtually and in person. Check out the schedule below to find a class that interests you.
Can't find a course for your area? Contact the Regional Safety Coordinator for your area or the Recreational Safety Division Office at (207) 287-5220.