Trapping Laws & Rules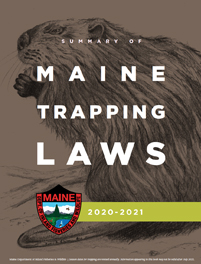 Search the Trapping Laws & Rules
Index
Important Changes for 2020-2021 Season
Mandatory Trapper Harvest Reports: See "Surveys" box
New Definition for Visible Attractor: See Definitions and Descriptions
Transportations Tags: Temporary Transportations Tags are no longer required for marten and fisher. See Tagging Requirements for more information.
Fisher Bag Limit: See Regulations for Specific Species for new bag limit.
Muskrat Colony Traps: See Regulations for Specific Species for more information.
2020-2021 Trapping Season
Beaver trapping season dates as well as open and closed areas are subject to change annually.
Season
Area
Season Dates
Early Fox & Coyote
Statewide
October 18, 2020 -
October 31, 2020
Early Muskrat
WMDs 1-6 & 9-11
October 25, 2020 -
October 31, 2020
Beaver
WMDs 1-4
October 18 2020 - April 30, 2021
WMDs 5, 6 & 8-11
October 25, 2020 - April 30, 2021
WMDs 7 & 12-29
October 25, 2020 - April 15, 2021
Bear
Statewide
September 1, 2020 - October 31, 2020
General Trapping (bobcat, coyote, fox, mink, muskrat1, opossum, otter, raccoon, red squirrel, marten, skunk, weasel)
Statewide
November 1, 2020 - December 31, 2020
Fisher
WMDs 1-11 & 14
November 1, 2020 - December 31, 2020
WMDs 12, 13 & 15-29
November 15, 2020 - December 31, 2020

1 See muskrat trapping for information on trapping muskrat after the general trapping season in areas where the beaver season is open.
Other Matters of Attention
New England Cottontail Rabbits
If you are trapping in southern Maine, MDIFW would like to know if you accidentally trap or see New England cottontail rabbits. Cottontail rabbits are smaller than snowshoe hare, have hind feet less than 4 inches in length, and do not turn white in the winter. Their coat remains brown all year round. Please let us know about any rabbits you see. This is Maine's
only native rabbit and MDIFW is actively trying to restore its population. Identifying new areas where the rabbit occurs could greatly benefit restoration efforts. If you accidentally capture a cottontail rabbit, please contact a regional wildlife biologist.
Nuisance Beaver
A list of nuisance beaver sites may be available for your area. Please contact your regional wildlife office if you are interested in the location of recent nuisance beaver removal sites or the location of any current nuisance sites.
Pelt Tagging Requirements
Trappers must have their fur tagged within 10 days after the season ends for each species. Fur tagging stations will register furbearers using a new online system. The Department uses fur tagging information to monitor the population trends of furbearers and to inform potential changes to rules and laws. If fur remains untagged, the accuracy of our furbearer management system is diminished.
Collared and Ear-tagged Animals
If you catch a collared or ear-tagged animal in one of your traps, that is NOT a lynx, you may take the animal for fur. However, you will need to return the collar and tags, and we would appreciate knowing where you caught the animal. Please call the nearest regional MDIFW office to report the location of the catch to a wildlife biologist and arrange to return the radio collar and tags.
Attention Lifetime Trapping License Holders
The Department mails trapping information to all trappers each fall. Please contact the Department (207-287-8000) if your contact information has changed or you no longer plan to trap.