Maine's Iconic Moose: A Virtual Series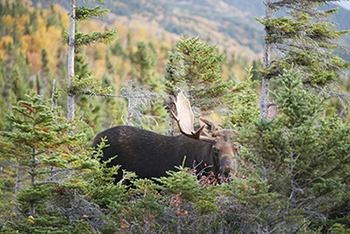 Inspired by the annual Moose Hunting Lottery Festival, Maine Department of Inland Fisheries and Wildlife is hosting a series of virtual events all about moose! Hunters and nonhunters alike are invited to learn more about moose, moose management, and moose hunting in Maine. Find a virtual session that interests you below!
Magnificent Moose in Maine - Thursday, June 11 at 11am – WATCH NOW
Did you know moose are the largest species of deer? Moose are one of the best-known mammals of Maine and visitors and residents alike are always trying to get a look. Join us as we talk about the amazing adaptations of moose. We will also take a look at the moose that live at Maine Wildlife Park.
Studying and Managing Maine's Moose – Saturday, June 13 at 11am WATCH NOW
Join Maine's moose biologist Lee Kantar to learn about the status of Maine's moose population, the adaptive management study, how winter tick are threatening moose, and the next steps.
Maine Moose Hunting Permit Drawing – Saturday, June 13 from 1 – 4:30pm WATCH NOW
Join us virtually as we announce the lucky recipients of a 2020 Maine moose hunting permit! If you miss the live virtual drawing you will be able to see the results online at 6:00 pm on June 13.
Moose Hunt in Maine Panel Series
Moose permit holders and their hunting partners are encouraged to listen to this panel discussion series to learn how to best prepare for their hunt of a lifetime including how to get the moose out of the woods and what equipment they will need, moose behavior, how to properly care for the meat, and more. Each panel will feature expert MDFIW staff, experienced Registered Maine Guides and Industry representatives. Information and Education Director Emily MacCabe will moderate the panel discussions and participants will have the opportunity to ask questions.
Each session will be recorded and available to view on this page after the program is completed.
Moose Hunt Preparation WATCH NOW
A discussion about essential gear, preparation for the hunt, and the benefits of hiring an experienced Registered Maine Guide or Outfitter.
Moose Hunting Prep Checklist (PDF)

Moose Hunting 101 WATCH NOW
A discussion and demonstration on how to gain new hunting skills before your hunt! Learn how to master calling, about moose behavior and pre-season scouting.
Avoiding Moose Hunting Pitfalls WATCH NOW
A discussion about enjoying a safe hunt and a review of important moose hunting laws/rules.
Field Care WATCH NOW
A discussion about the importance of proper field care, essential gear and tools, learning how to field dress, and the responsibility of meat care.