Open Farm Day
Open Farm Day celebrates agricultural awareness, to connect the public with farmers, and support Maine agriculture year-round. Join us as we highlight farms who welcome your inquiries to connect directly.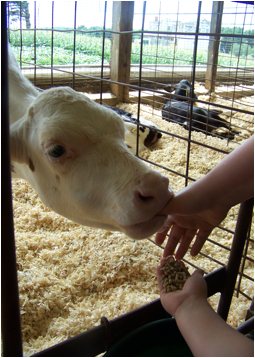 About Open Farm Day
Save the date! July 24, 2022 is Open Farm Day.
We celebrate Maine agriculture year-round, and Open Farm Day is an extra special day to visit a farm and discover more ways to enjoy farm products year-round! Maine's Open Farm Day gives visitors the chance to explore host farms throughout the state the fourth Sunday in July rain or shine. Please visit RealMaine.com to learn more about this special invitation to see Maine agriculture where it happens, get tips for a good visit, and find a list of participating farms.
---
For Host Farms
Event Participant Sign-Up
Registration for this annual event happens via Real Maine membership portal.To take advantage of all the promotional opportunities, host farms should sign-up by May 1. (Those who sign up between May 1 and July will have limited promotional opportunities.)
Host Farm Resources
Current & potential participants: Receive emails and updates about Open Farm Day
Important Dates - Annual Schedule and Deadlines
Month
Items Due
January - May
May

Deadline to be in the summer publication
Check out the resources for host farms
Registration Closes

May - July

Continue event planning and preparation
Add your info to the online event listings
Make the most of promotions - share on social media with #MaineOpenFarmDay
Finalize plans for your farm

Fourth Sunday in July
Open Farm Day!
Interested farm participants should contact Anne Trenholm at ACFOpenFarmDay@maine.gov or 207-287-7620 with questions.