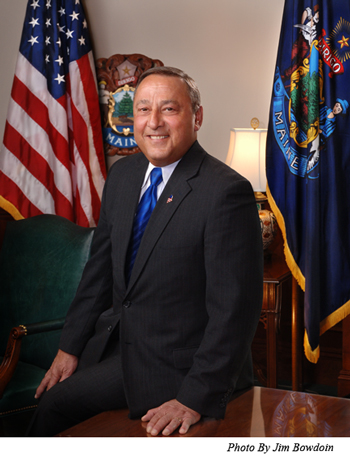 Radio Address: Challenging Maine's Education
June 2, 2012
Hello. This is Governor Paul LePage.
In the next couple of weeks, thousands of students will be graduating from high schools across Maine. Let me be among the first to congratulate these students and wish them success in whatever their future plans may be.
While this graduation season is a season for celebrating, it is also a time to remember that too many of our young people drop out of high school before graduating. Only 82 percent of Maine high schoolers graduate from high school on time, a number that is unacceptably low.
We also know that too many of the students that will graduate in coming weeks are not ready for college and careers. The Maine Community College System has reported to us that 54 percent of the students they enroll right out of high school need to take remedial courses in math or language arts. The remediation rate for the University of Maine system is 25 percent. Both of these numbers are unacceptably high.
Another number that is unacceptably high is our education spending. Maine's per-pupil spending is 5-thousand dollars above the national average and states that spend less than we do are outperforming us. We need to do better while spending less.
It is important to note that our K-12 education system serves some students well, and many of those graduating from our high schools will go on to even greater success in life. But the system is simply not doing well enough. It is simply failing for too many of our kids.
That is why I have made education a top priority for my administration.
I want Maine to be an educational leader. Therefore, we must learn more about how and why other states and countries are leading the world in teacher quality and educational achievement.
From the day this administration came into office, we have focused on making our schools better. We passed a charter school bill to provide students with more learning options and we signed legislation creating more ways for schools and school districts to innovate. Career and Technical education is now getting the focus and attention it deserves and more early college opportunities for students have been created.
We also toughened our diploma standards, and we passed a bill focused on improving the effectiveness of our teachers and school administrators.
All of this, though, is not enough.
The status quo is what dominates our schools.
Changing our schools is going to require outside-the-box thinking and a commitment on the part of everyone to move beyond the status quo.
Moving beyond the status quo is why I have challenged the teachers union to do more to help our teachers get better. They have refused to meet this challenge and instead are focusing on advancing political agendas and trying to line their own pockets by using the courts to block legislation that could save school districts millions of dollars in health insurance costs.
Research is clear; an effective teacher has a profound effect on student learning. That is why I continue to challenge the teachers union to step up to the plate and work with me to improve teacher quality.
Additionally, too many of our education dollars are spent outside our classrooms. Maine spends 60 million dollars a year on school district administration alone – money better spent on our children.
We have work to do here in Augusta as well. I have asked the state Department of Education to work with superintendents to identify costly state mandates that we can do without. Like all other state departments, the Education Department will be using a zero-based budget process to review all of its programs to make sure that everything we do in Augusta supports student learning.
We are also working with the University system and the Community College system to address the issue of the transfer of course credits, and my challenge to them is to make sure that students pursuing a post-secondary education can have their credits fully transfer from one institution to the next.
The high schoolers graduating in the next couple of weeks should be proud of their accomplishment. It comes as a result of hard work and dedication.
If we are to move Maine's education system beyond a status quo that is failing too many of our kids, we need to be dedicated to the hard work of making real change happen in our schools.
That is my challenge to Maine's education system, and I stand ready to work with them to meet this challenge.