Press Release
June 29, 2012
Directors, Youth Unite, Create Siblings Bill of Rights
AUGUSTA - The New England Youth Coalition (NEYC), representing youth in foster care has joined with the New England Association of Child Welfare Commissioners and Directors (NEACWCD) to create a regional Siblings Bill of Rights. Maine held its Bill Signing on June 19 at the University of Maine during its annual conference for teens in foster care.

The Bill was developed in recognition of the importance and value of sibling relationships and the need for their preservation. It is intended to guide the New England Child Welfare agencies in the delivery of care and services to the 18,600 children in their custody. Maine's Youth Leadership Advisory Team, made up of youth currently in state care, participated in the Bill's development.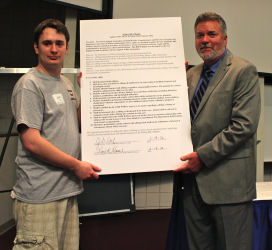 Josh Calcia and Daniel Despard displaying the Sibling Bill of Rights
"We are very hopeful that this Bill of Rights will guide decision-making and promote more contact with siblings,'' said Therese Cahill-Low, Director of Maine's Office of Child and Family Services. "We understand the value of this connection and the importance of these relationships."

The Bill was inspired by the stories of youth in foster care across the region, many of whom have permanently lost touch with their brothers and sisters. Even in the positive situations where foster youth are adopted, contact is left to the discretion of adoptive families.

NEYC spearheaded the Bill's creation because it felt strongly that the foster care systems in New England needed to help assure that the sibling bond is protected. Over the past year, youth and agency leaders have been collaborating on the Bill which outlines 10 basic rights for foster children. These rights begin with the notion that each foster child ideally should be placed with their siblings.

In Maine, the Department of Health and Human Services has committed to creating meaningful connections when siblings have been separated,'' said Daniel Despard, Child Welfare Director. "I am proud to co-sign the Siblings Bill of Rights. We thank youth in care for teaching us how important siblings are to one another and for advocating for us to do a better job."

Josh Calcia, a YLAT member from Maine signed the Bill along with Despard. "This bill is important to me because when my brother was adopted, I was not able to see him and I don't want other youth to face the same situation," he said.

About the organizations:

The Youth Leadership Advisory Team is a group of young people from foster care and adult partners who are working to improve outcomes for all youth in foster care by improving the child welfare system and creating resources for youth. Since 2000, YLAT has worked with Maine DHHS and the Maine Legislature to create policies and laws to protect the rights of siblings in foster care.

The New England Association of Child Welfare Commissioners and Directors is a consortium of child welfare agency leaders and staff members from Connecticut, Maine, Massachusetts, New Hampshire, Rhode Island, and Vermont that is housed at the Judge Baker Children's Center in Boston.

The New England Youth Coalition consists of current and alumni foster youth and adult allies working together to better the quality of life for youth involved with the foster care system through education, advocacy, and improvement of policy and practice. It has been meeting since 2008, and draws its members from youth advisory boards in all 6 New England States. NEYC operates with the support of NEACWCD, Casey Family Services, and Casey Family Programs.