Press Release
June 20, 2011
Nadeau Appointed Director Of MaineCare Services
Former Acting Director chosen to lead Maine's Medicaid program.
AUGUSTA – Maine Department of Health and Human Services Commissioner Mary Mayhew announced today that Stefanie Nadeau has been appointed Director of MaineCare Services.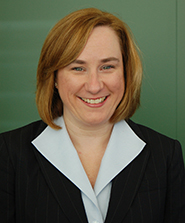 Stefanie Nadeau
Nadeau has been serving as Acting Director of the Program since mid-February. A graduate of Thomas College, Nadeau has been with OMS for seven years and has played several important roles along the way. Her diverse experience includes program management, policy, operations and claims management.
Prior to accepting the Acting Director's role, Nadeau was the Director of Program Management, providing executive leadership of the Health Information Technology initiative, sponsoring Maine's move to a new coding system (ICD-10) and managing Maine's managed care effort. She has also been overseeing the move to a new claims management system and has worked with OMS policy staff on federal compliance issues.
"Stefanie has provided strong leadership as the Acting Director," said Commissioner Mayhew. "We are very fortunate to have someone with this level of experience and a working knowledge of Medicaid's complexities to lead the program."
A Maine native, Nadeau currently resides in Farmingdale with her husband and two children.