State Library Launches New Service to Help New E-reader and Tablet Users
December 25, 2013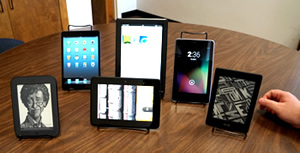 E-reader and tablet devices from the Maine State Library "technology petting zoo" collection. The devices can be loaned to other Maine libraries for staff training or public workshops.
Augusta - Not quite sure how to use that new e-reader or tablet device Santa brought you for Christmas? Staff of the Maine State Library are offering a new service to help.
Starting after Christmas reference librarians at the Maine State Library are providing technical support to people with questions about how to set-up and use e-reader and tablet devices to access e-books and audiobooks online. One-on-one appointments are available, or individuals can drop by for advice on Tuesday afternoons from 1:00PM to 4:30PM. To schedule an appointment, use the Maine State Library online contact form at: www.maine.gov/msl/services/ask.htm or call 207-287-5600 and ask for the circulation desk.
"E-readers and tablets are a great way to access library content without ever having to leave your home," said State Librarian, Linda Lord. "Over 200 Maine Libraries have access to the Maine InfoNet Download Library of e-books and audiobooks, and cardholders from those participating libraries can use e-readers and tablet devices to access that collection from home at no charge."
The Maine InfoNet Library can be found online at: http://download.maineinfonet.org . Online support with the Maine InfoNet Library can be accessed by clicking the help button at the top of any page on the site.
Share a Comment
Let us know what you think about this article.