PCs for MAINE: Public Access Computers for Libraries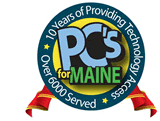 The Information Technology Exchange and the Maine State Library are partnering to offer a program that provides reliable, sustainable computers, software and support to libraries at very low cost. The PCs for MAINE public access computer program is reaching out to public libraries, especially libraries that don't have the budget to afford retail computer costs or expensive computer repairs.
Since 2002, PCs for MAINE has been providing alternative solutions for individuals and families who need computers to achieve an academic or employment goal. Libraries and nonprofits play a crucial role in making computers available to the community, but they are hindered by equipment issues, a lack of technical support, poor product quality and most of all cost.
These public access computers are hand-built in Belfast, Maine using a combination of donated high-end business class computers that are completed with new parts and charitable software licensing. They are complete, tested and ready to use when you get them. They were designed to provide a minimum of 2 years of dependable, hassle-free use.
Costs
Complete Public Access Station: $200.00

Includes a refurbished desktop PC with Windows 7 Professional, a host of software, security tools and a 'locked down' user profile that doesn't allow users to change the computers configuration, a refurbished 17" LCD (flat screen) monitor, mouse, keyboard, communicator headset OR speakers and power cables and a copy of our "Public Access Station User Guide"

Public Access Station - Computer Only: $130.00

Only the computer without the monitor, keyboard, mouse or speakers
15" / 17" / 19" LCD Monitor: $15 / $20 / $30
For each LCD purchased, an old monitor can be recycled for an additional $8.
To obtain a Public Access Station, contact:
Jodi Martin, Email: jmartin@itec3.org, phone: (207) 322-6255 or
Calvin Robbins, Email: crobbins@itec3.org, phone: (207) 322-0444
For further information about this program, contact Jared Leadbetter or call 207-287-5620.