Bridgeport National Bindery Instructions
Sending a Shipment via UPS
When sending a binding shipment to Bridgeport National Bindery via UPS (United Parcel Service of America) we ask, if possible, that you send at least 100 pounds per shipment. That is usually 2-3 boxes.
Three ways to send materials via UPS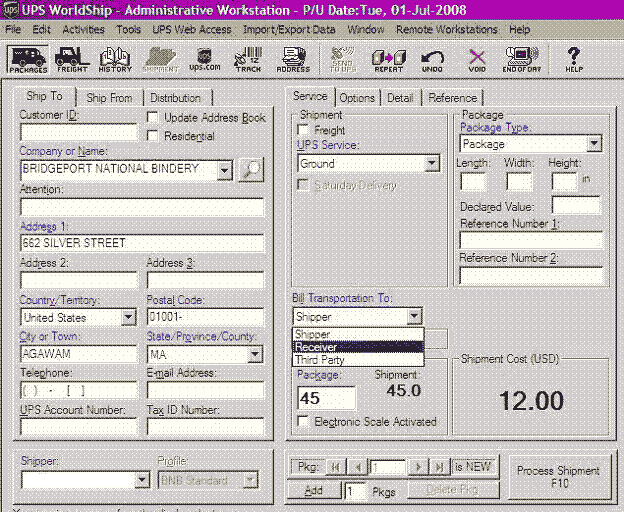 If your library has UPS shipping software (WorldShip), which most do, then you can simply send the shipment to us using UPS Ground and bill the transportation to us. The billing option is now called "bill to recipient" formerly "freight collect." Just pick the "Bill Transportation to Receiver" and then put in our UPS account number which is: [Call Bridgeport for the number when needed -(800) 223-5083]. If they have the UPS Worldship software, the screen should look like this. This is our preferred option.
Another option is for the library binding staff to go to www.ups.com/ and register directly with UPS. This will enable you to print shipping tickets. Tape these tickets to your boxes, and get them to the library mailroom, or where ever UPS picks up at your library. Libraries that bind on a regular basis find this works well.
The final option is when you are ready for a pickup just call us (800) 223-5083 and tell us how many boxes you have and we will issue you call tags. Our shipping department will send you an email with some pages to print out and tape to the box. Then take the boxes to where UPS picks up and delivers so they will see them there and pick them up. The call tags will generally be sent to you by about 4:30 Eastern Time.
Bridgeport National Bindery will honor our contractual agreement to provide pickup and delivery services for our customers. If we have no contractual agreement, we will follow our policy, as outlined on the Price Sheet, to cover shipping costs if you have 100 volumes or more.
It is a good idea to let your UPS driver know that you are starting to ship materials to the bindery so they can be prepared for more shipping to and from your library.
Please call us at 800-223-5083 if you have any questions about how this process will work.