MaineDOT Commissioner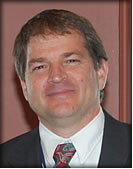 David Bernhardt, P.E.
Commissioner
Maine Department of Transportation
David B. Bernhardt was appointed to be Maine's Commissioner of Transportation by Governor Paul R. LePage, and was sworn into office in February 2011.

Commissioner Bernhardt joined the Maine Department of Transportation in 1984 and has held several positions at the department over the years. Immediately prior to his becoming Commissioner, he was MaineDOT's Director of Engineering and Operations. His duties in that role included tackling difficult or recurring engineering, technical and operational challenges, and recommending solutions based on engineering and operational experience, and transportation-system performance measures. As Director of Engineering and Operations, he also managed MaineDOT's line units—the Bureau of Project Development, the Bureau of Maintenance and Operations, and the Environmental Office.

Dave Bernhardt previously served as MaineDOT's Director of Maintenance and Operations for more than four years, during which time he implemented a number of cost- and efficiency-gaining initiatives.

Commissioner Bernhardt is a 1984 graduate of the University of Maine at Orono, where he earned Associate's and Bachelor of Science degrees in Civil Engineering. He is a registered Professional Engineer, and he is an active participant on national and state committees involved in transportation issues. He lives in Vassalboro, Maine with his wife Carmen, and has two daughters and a son.

This page last updated on 12/20/12