Program Evaluation & Government Accountability: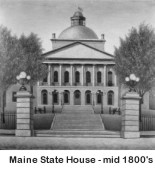 The Office of Program Evaluation & Government Accountability (OPEGA) maintains this web site to inform and educate Maine citizens interested in our work. Legislators and other state employees may find some sections of this site particularly useful. Thank you for visiting, and please let us know if there are any additions or changes we can make to this site to make it easier for you to use or more helpful. There is a link to
our survey at the bottom of each page. This survey is designed to collect feedback concerning this web site and about our work products, such as reports. If you would like to contact us outside the survey, please see the
OPEGA contact page
or use the Email Webmaster link at the bottom of all OPEGA and GOC pages.
Many OPEGA documents provided on this web site are in PDF format. In order to view or print PDF documents, you need to have the free Adobe Reader installed on your computer. If you have trouble opening a file, or need a file in a different format, please contact the OPEGA Office.
---
OPEGA's Mission:
The Office of Program Evaluation and Government Accountability (OPEGA) exists to support the Legislature in monitoring and improving the performance of State government by conducting independent, objective reviews of State programs and activities with a focus on effectiveness, efficiency and economical use of resources.
OPEGA conducts objective and independent performance audits of State government programs and activities to ensure they are achieving intended results and are effective, efficient and economical. Within this context, OPEGA also evaluates compliance with laws, regulations, policies and procedures.
Using an independent perspective, OPEGA:
provides timely and credible information for identifying risks and making decisions;
facilitates positive change by recognizing excellence, recommending improvements and working collaboratively to assure effective action is taken; and
fosters a more complete and accurate understanding of State government through its reports and communications.
OPEGA is also authorized to audit non-State entities receiving State funds or established to perform government functions.
OPEGA is a non-partisan,
independent legislative office

Values

Authorizing legislation: MRSA Title 3 §991 - §997, passed in 2003

Began operation: January 2005.

Staffing:

Beth Ashcroft, Director
Wendy Cherubini, Senior Analyst
Scott Farwell, Analyst
Matthew Kruk , Analyst
Lucia Nixon , Analyst
Maura Pillsbury, Analyst
Etta Connors, Administrative Secretary

Professional standards: Government Auditing Standards (Yellow Book)
Location: 111 Sewall Street, Cross Office Bldg., Room 107, Augusta, ME
Mailing info: 82 State House Station, Augusta, ME 04333-0082

207-287-1901 (P)
207-287-1906 (F)

OPEGA seeks to be a model for best practices in government and is committed to:

Independence and objectivity

Professionalism, ethics and integrity

Participatory, collaborative approach

Timely, effective communications

Valuable recommendations

Continuous improvement

Using skilled and knowledgeable staff

Minimizing disruption of operations

Identifying root causes

Measuring its own performance

Smart use of its own resources