Maine's State Wildlife Action Plan (SWAP) - 2015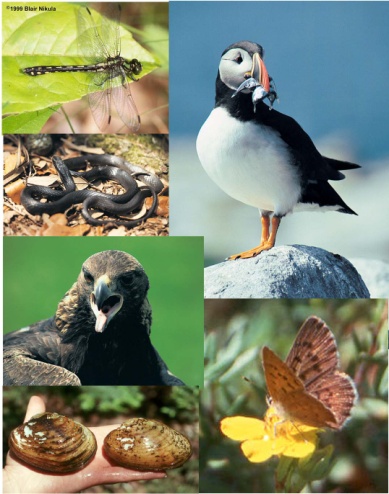 In 2001, Congress asked each state to develop a Wildlife Action Plan to be eligible for State Wildlife Grants – a federal grant program that helps state and tribal fish and wildlife agencies address the unmet needs of fish and wildlife. Wildlife Action Plans examine the health of wildlife and identify opportunities to conserve species and vital habitats before they become rarer and more costly to protect.
In 2005, MDIFW, its conservation partners, and the public prepared Maine's first Wildlife Action Plan (2005). We have accomplished much for wildlife over the past ten years (summary, details) , and we hope to continue this success into the future. Maine must revise its current Action Plan by October 1, 2015. Over the next year, MDIFW, its conservation partners, and the public will work together to identify Maine's wildlife needs and opportunities for the next decade. Please check this website often for meeting announcements, documents, and other opportunities to become involved in the Action Plan revision process.
For more information or to provide comments, please contact us.
Information on Wildlife Action Plan Subcommittees
The committees below are composed of conservation partners and MDIFW staff and were formed to accomplish specific tasks during Maine's 2015 Wildlife Action Plan revision.  For additional information on each committee, please contact the individuals listed below.
Committee

Purpose

Contact


Wildlife Action Plan Steering Committee

The Steering Committee serves as the initial sounding board for MDIFW on both overall process and initial plan components and drafts; provides feedback to MDIFW between partner meetings on time-sensitive issues involving the plan revision; and, establishes the timeline for the plan revision and ensures that the timeline is met.

Meeting Minutes:

September 2014 October 2014 November 2014
December 2014



Focus Area Review Subcommittee


Public Outreach Subcommittee

The Public Outreach Subcommittee is identifying and implementing effective methods for engaging and soliciting input from the general public during the Wildlife Action Plan revision.

Meeting Minutes: