Population and Habitat Status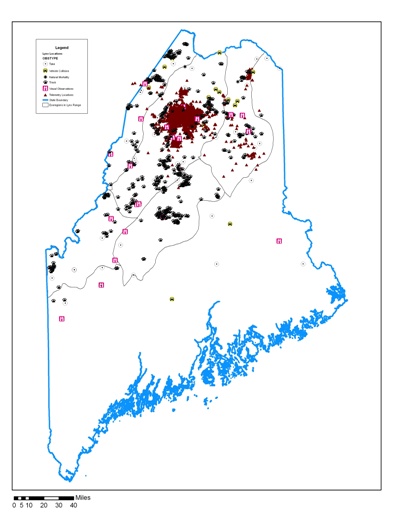 Confirmed observations of lynx in Maine between 1999 and 2008 (update available soon).
Lynx are found primarily in Alaska and Canada, where snow is deep, and spruce/fir forest are common
Maine is at the southern edge of lynx range, thus lynx are less secure
Lynx are found in the spruce/fir forests of northern and western Maine where snow is deep most of the winter
In Maine, lynx numbers have fluctuated with the forest conditions that support snowshoe hare
The abundance of young dense spruce/fir forest from extensive clearcutting of diseased spruce/fir trees 30 years ago led to high hare numbers.
Lynx populations began to increase and reached a record high in 2006
We estimated between 600 and 1,200 adult lynx in northern and western Maine spruce/fir forest.
These regenerating spruce/fir clearcuts are growing into older forested stands
There isn't sufficient younger forest to immediately replace current lynx habitat
Although there will be less young s/f forest in the future, it may be sufficient for lynx to persist.
The USFWS, the University of Maine, and MDIFW are working together to determine what types and how much habitat is needed to support lynx in Maine.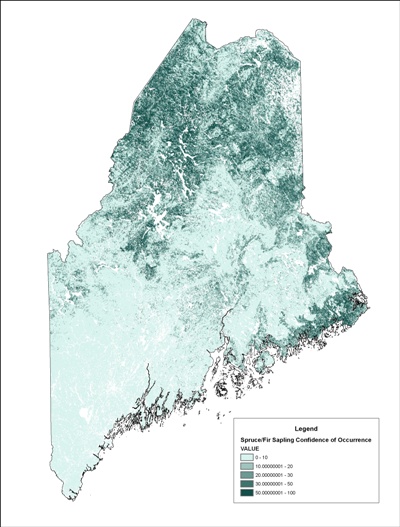 Predicted distribution of spruce/fir sapling forest in Maine
(source Maine Forest Service).