Lynx - The Maine Story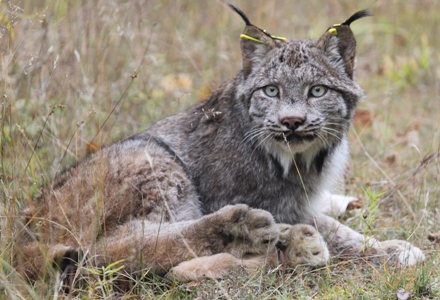 Maine is the only state in the Northeast with a known breeding population of lynx, comprising the southern edge of a larger lynx population that extends into Quebec and New Brunswick.
Canada lynx were federally listed as threatened in 2000 by the US Fish and Wildlife Service (USFWS), and although not known at the time, they were approaching peak numbers in Maine. A joint eleven-year study of lynx revealed that the extensive cutting of spruce and fir in the 1970s and 1980s following an insect outbreak benefited lynx 30 years later. The abundance of young dense conifer forest became ideal habitat for snowshoe hare, the principal food source for lynx, and subsequently supported larger numbers of both populations.
As the forest matures, its value for snowshoe hare and lynx will decline, but may be sufficient for lynx to persist. MDIFW, USFWS and the University of Maine are assessing the types and amount of habitat needed for lynx in Maine.
Furbearer Trapping and Lynx

Lynx have been protected from harvest in Maine since 1967, but are sometimes caught in traps set legally for other furbearing species. Since 2000, one lynx was illegally shot in a foothold trap and four lynx died in conibear traps. Maine's trapping regulations were modified following the death of these lynx. No lynx have died in traps set under current regulations.
Maine's lynx population grew when regulated trapping occurred. MDIFW's information shows incidental trapping of lynx does not pose a threat to the sustainability of Maine's 600 to 1,200+ lynx. However, captures of lynx in traps are considered "take" under the federal ESA. MDIFW has submitted an incidental take plan to USFWS that minimizes and mitigates risk to lynx from trapping.
Explore the navigation to the right to learn more about the natural history of lynx, what our research has revealed, or trapping information concerning lynx in Maine. You can also go to Off-site resources to view and comment on the recently submitted Incidental Take Plan.