February 20, 2008 Meeting Minutes and Agenda
AGENDA

Approval of the January 16th meeting minutes – Chair
Vision Statement Update - all
CAT 3 Grant Contractor Presentation ( 1 hr )
Subcommittee Reports
Financial – Larry Harwood
Policy & Marketing – Marilyn Lutz
Technical
Orthoimagery Project /Parcel grants – Larry Harwood
Status on the GEOPortal – Christopher Kroot
MEETING MINUTES

Present
William Hanson, Chair
James Page
Marilyn Lutz
Gretchen Heldmann
Elizabeth Hertz
Christopher Kroot
Nancy Armentrout
Ken Murchison
Mike Smith
Greg Copeland
Staff
Larry Harwood

Visitors
Dan Walters, US Geological Survey (USGS)
Dave Blocher, Office Information Technology (OIT)
Carl Nylen, Environmental Systems Research Institute (ESRI)
Matt Davis, Environmental Systems Research Institute (ESRI)
Will Mitchell, Mitchell Geographics
Rick Smith, Maine Bar Association, Title Standards Committee
Bruce Oswald, James W. Sewall Co.
Rich Sutton, Reference Standard

The meeting was called to order at 10:04 a.m.

1. Approval of the January 16th, 2008 meeting minutes
The Chair entertained a motion to approve the minutes. One correction was noted, the abbreviation for the University of Southern Maine is USM; in some places it is misspelled as UMS. Marilyn Lutz moved to approve the minutes as amended. Gretchen Heldmann seconded. The Board voted 9 in favor, none opposed. The motion carried. (NOTE: unless otherwise indicated the Chair abstains from voting)

3. CAT 3 Grant Contractor Presentation
The Chair moved item 3 to be next on the agenda.

The vendor team introduced themselves, Bruce Oswald, Vice President of Public Sector Geospatial Solutions, James W. Sewall Company and Rich Sutton. Principal of Reference Standard. Jim Page in his capacity as CEO of the James Sewall Co. led off with introductory remarks, noting that this project was important to the company and they were committed to a maximum effort. He also noted that time is short and everyone will have to push hard to complete the project on time but it can be done. Selection of a project manager quickly is of the utmost importance as they do not want to invest too much time before the project manager is known.

Bruce Oswald opened the presentation which was to introduce the Sewall team, cover project goals, discuss the approach, discuss work completed and gather ideas from the Board. For the purposes of the minutes, the presentation will be reproduced in outline form.

Project Goals
• Task 1 – Update and enhance the Geolibrary Strategic plan and bring it into alignment with the goals of NSGIC Fifty States Initiative
• Task 2 – Recommend a conceptual framework and functional specification for Integrated Land Records Information System ( ILRIS ) for the State of Maine

Task 1 – Project Description
• Review and document status of activities in 2002 Strategic Plan
• Update 2002 Strategic Plan relative to status of current projects and new needs
• Bring 2002 Strategic Plan into closer alignment with NSGIC Fifty Initiative coordination criteria

NSGIC's Strategic Planning Criteria
1. Strategic and business plans
2. A full-time paid GIS Coordinator and staff
3. Clearly defined authority and responsibility for coordination
4. A relationship with the Chief Information Officer
5. A tie into national programs
6. Contracting authority and cost sharing mechanisms
7. An inter-government working environment free of "turf wars"
8. A political or executive champion is involved in coordination
9. Sustainable funding mechanisms
10. Statewide coordination efforts that can be a conduit for federal initiatives

Task 1 – Project Description
Primary Focus
• coordination of local governments academia and the private sector
• developing sustainable funding sources
• cultivating political champions to grow support for future geospatial initiatives
Contractor will work with Board and "identified" stakeholders to
• review 2002 plan
• hold sessions to involve identified and anticipated stakeholders
• research similar efforts in "other comparable areas"

Task 2 – Research
• identify stakeholder groups to determine how they use parcel maps and deed registries
• investigate linkages between municipalities and county registry of deeds
• review collaborative parcel editing technologies
• research & document existing & announced parcel capture and maintenance initiatives
• review and evaluate current participation and adherence to parcel standards by participating municipalities
• review Resolve 23 and other sustainable funding mechanisms to support development and maintenance of an ILRIS

Task 2 – Codification ( Framework & Specification )
• document parcel maintenance best practices
• articulate property data and transfer protocols and relationships
• produce candidate methods for a universal ID system
• consider standards and process from GOS and National Map perspective
• design a conceptual framework consisting of a political and technical architecture
• produce a functional ILRIS specification

Task 2 – Promotion
• develop interest and stakeholder support for the initiative
• indoctrinate political champions in "geospeak" as well as pursuing identified funding sources

Geographic Scope
Strategic Plan update and realignment
• address & support all areas of Maine
ILRIS
• strategy development involves 2 counties & up to 12 municipalities
• final specification accommodates 16 counties and 490 municipalities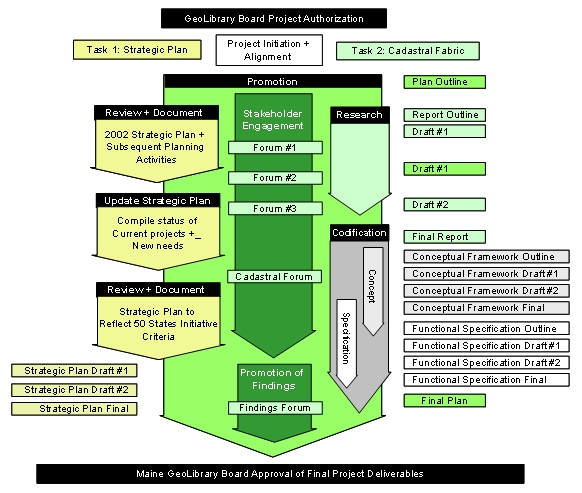 Project Workflow

Task 1 – Review Maine's Existing Geospatial Strategy
• perform a formal review of the 2002 Strategic Plan, the 2006 Counties Plan and other pertinent documents
• review the existing geospatial strategy
• determine differences in these plans, what exists today and NSGIC coordinating criteria

Task 1 – Stakeholder Engagement & Needs and Capabilities Assessment
• engage relevant stakeholders both within and outside the Maine GIS community through a promotional campaign
• investigate traditional and innovative funding sources for current and anticipated geospatial activities in the state
• identify and develop champions for Maine Geolibrary and geospatial initiatives with special attention directed toward ILRIS activities

Task 1 – Geolibrary Strategic Plan Update and Alignment
• use this information to frame discussions at meetings & through surveys to engage the Maine geospatial community
• align the Strategic Plan with the National States Geographic Information Council's ( NSGIC ) Fifty States Initiative
• update Maine's GIS Strategic Plan

Task 1 – Strategic Plan Update & NSGIC Alignment – Key Deliverables
• produce an outline of the Strategic Plan update
• prepare an initial draft Strategic Plan
• provide a second draft Strategic Plan
• deliver a final Strategic Plan aimed a the core NSGIC coordination criteria goals of multi-jurisdiction coordination, funding source development and political champion cultivation

At this point Rich Sutton took over the presentation and focused on the Integrated Land Records Information System

Task 2 - Integrated Land Records Information System
• research of current parcel status and best practices
• codification of a conceptual framework
• codification of a function specification
• promotion of project and plan

What Does Task 2 Really Contain?
The development of a method to formalize
• capture ( municipal, county & state levels )
• integration ( attribution for parcels drawn from towns augmented by county deeds registry info linked through book & page )
• maintenance
• distribution of cadastral data
Develop a plan to promote & implement it

Task 2 – Research of Current Parcel Status and Best Practices
• contact current and potential stakeholders; document use of parcel data & attribute requirements
• explore linkages between municipalities and county deed registries
• investigate chain of title data feeds
• document frequency of updates
• assess best distribution strategies
• address municipal participation in and adherence to Maine parcel standards
• identify business drivers at multiple government levels in academia & the private sector
• consider digital availability, accuracy of geometry, common data models, content standards, attribute availability best practices & interoperability
• study legislative precedents for consolidating and managing collection and distribution of land records
Task 2 – Promotion: Application Examples / Business Drivers
Use parcels/GIS to inform current initiatives
• Gateway 1
• Bruswick NAS BRAC
• DECD – Pine Tree Development Zones
• LURC Moosehead Rezoning
• Wood to Energy modeling – Treegrowth
• Mortgage relief visualization

At this point Bruce Oswald took over to conclude the presentation

Communications Plan
Communications between the Geolibrary Board and the Sewall Team
• direct communications including all administrative communications – Geolibrary Project Manager ( PM )
• Rich Sutton – ( Sewall Team – ILRIS Lead ) will have direct communications capabilities as well on cadastral matters
Scheduled communications
• bi-weekly project meetings & records
• monthly reports
Status reports
Issue reports
Schedule activities
Scheduled Board presentations
Communications between the Geolibrary Board, the Maine GIS Community and other significant stakeholders
• meetings with state agencies, CIO, GIS professionals
• meetings with county leaders, registry of deeds, GIS professionals
• meetings with municipal leaders, assessors. GIS professionals
• meetings with academia & private sector
• meetings with surveyors, bar and realtors assoc.
• forums ( Portland, Bangor, Augusta )
• surveys ( on-line and paper )
• blog
• list servers
• broadcast e-mails
• project location on website
online status report
schedule of activities
presentations
registry of participants

Work Done to Date
• spoke to and gathered input at the Maine Society of Land Surveyors Conference
• developed blog site
• scheduled to speak at the Maine Municipal Assoc. Technology Conference
• met with the State CIO
• met with Nancy Arementrout and Larry Harwood
• forwarded contract to State for execution

Work in Next 4 Weeks
• designate Project Manager
• announce project
• establish project site on Geolibrary web site
on-line registration
link blog to site
post documents to site
• Board identifies statewide stakeholders
• develop and distribute survey
• schedule forums
provide suitable locations
announce locations and dates
call significant stakeholders
• schedule meetings
state agencies
local government
Bar Association
Realtors assoc.

The presenters concluded by posing several questions for the Board.
1) Who do we need to get involved in the study and what's the best way to get their input?
2) What are the most important things that you would like the statewide GIS coordination to do that is not currently doing?
3) Who are the three most likely political champions for GIS in Maine?
4) What do you believe are the best sustainable funding sources for GIS in Maine?
5) What do you feel would be the greatest benefits of accurate and up-to-date statewide parcels to you and your organization.
6) What is the most important parcel attribute information?
7) What county or region would you nominate as a pilot project?
8) What challenges do you anticipate in developing and distributing parcel data?
9) What is the best way to encourage towns and counties to work together to create a single, dependable cadastral product?

The Chair immediately asked for a report on the selection of the Project Manager. Nancy Armentrout reported that the ad hoc project committee had received and was reviewing several proposals. They hoped to make a selection within a few days at most.

Discussion following the presentation was wide ranging. Some of the more salient points are as follows.
• Such an initiative would have an effect on the standards and practices of a large group of professionals and organizations including but not limited to title insurers, realtors, developers, utilities and conservation trusts.
• Assessment mapping is not of survey quality but very useful for planning purposes.
• The digital parcel standard, while limited, is a very good start towards a uniform standard.
• Who is being served by the product? A very wide range, as partly listed above.
• What is the authoritative source for this? No clear answer at present.
• What about the role of the regional planning councils ( RPCs ) ? A good point, perhaps they should be more involved than they have been.
• There will be reluctance on the part of county registrars to support this if they think it will result in a "state registry" superseding their own. There is also suspicion of electronic filing and management of records.

In the interest of time, the Chair asked that discussion conclude and moved item 4 / Status of GeoPortal to be next on the agenda.

Christopher Kroot gave a brief presentation on the status of the Geoportal work. A contract has already been approved with Environmental Systems Research Institute (ESRI) to install the ESRI portal. It will cost about $9,950 in staff time to configure the portal. This has already been covered by a previous appropriation of $10,000 by the Board for this purpose.

Originally it had been planned to use existing servers to host the portal. Unfortunately these machines will not support the required software – they are too old. It will cost $13,000 to buy 2 new servers however Office of Information Technology (OIT) will waive the $1300 per month hosting fee in the Board purchases the machines. They will belong to the Geolibrary. It will take not more than about 2 to 3 weeks to get everything up and running if these servers are purchased.

The University of Maine at Orono (UMO) is not inclined to participate in the portal project. The University Of Southern Maine, Research Computing Group (USM RCG), who presented at the last meeting, is still interested in a level of participation. USM is proposing to store all non-state agency data for the Geolibrary at no charge. The Board will be asked to fund an application to be developed by the RCG. This application will essentially create a web mapping service (WMS) on demand for any dataset so that the data can be viewed by the user. A WMS can also be brought into most GIS softwares as a data layer for viewing and mapping. The application would be open source with source code and belong to either the Geolibrary or OIT.

In addition the initial loading of non-state agency metadata could be affected by the UM of Machias. They have gotten large grants to develop 'virtual training centers'. Probably that could be leveraged to provide towns with a single place to go for uploading metadata.

Q: How long will the servers be available?
A: Until they die or more likely until their architecture no longer supports newer software and operating systems.
Q: What is covered by the (servers) hosting fee?
A: Everything involved in their operation, upgrades, versioning, footprint, ect.
Q: Can we craft the contract language to be sure we own the USM application.
A: Certainly. There is some question about the exact definitions of "open source" and who actually owns the source code.

Christopher Kroot moved "to allocate $13,000 for two servers to support the GeoPortal with the understanding that the Geolibrary will be the owner and all services for the support of the servers will be paid for by OIT through June of 2009". Ken Murchison seconded. The Board voted 9 in favor with none opposed. The motion carried.

Gretchen Heldmann moved (first) "to authorize Christopher Kroot to contract by cooperative agreement with USM RCG to do the initial loading of metadata for organizations such as towns and non-profits not to exceed $6,000, metadata to be of the Geolibray's choosing." Mike Smith seconded.

Gretchen Heldmann moved (second) "to work with USMRCG to develop web-mapping services as outlined in the section 4 of the document presented not to exceed $22,000 and also to be conducted by cooperative agreement. Mike Smith seconded. Discussion was extensive and is summarized for the purposes of the minutes in question & answer format.

Q: Can we postpone this vote?
A: It would hold things up badly.
Q: Do we have the funds for this?
A: Yes, there should be enough left unallocated.
Q: Who will enforce the data standards?
A: That may need clarification. Most probably the data providers of data would be responsible.
Q: We have already established policies and standards for accepting data into the Geolibrary. How will this affect that?
A: Actually none of this data will be "in" the Geolibary in the sense that it will not be on OIT or Geolibrary servers. It will be served from other "data nodes" so to speak.
Q: Is the Geolibrary "on the hook" for this data? (There was extensive discussion of this point.)
A: Most probably not. We are paying for the creation of a tool at USM. We have legislative immunity in any case.
Q: Who has the final say on what (data & metadata) gets loaded. Who is responsible?
A: The Board is probably responsible although note the above discourse. We can vote now on the matter and deal with policy issues afterward.

On the first motion, the Board voted seven in favor, two abstentions, none opposed . The motion carried.

On the second motion, the Board voted seven in favor, three abstentions, none opposed. The motion carried.

2. Vision Statement Update
The Chair returned to item 2 on the agenda.

Dave Blocher explained that he thought the original vision statement was too technical for widepread consumption by people, especially legislators, not familiar with our GIS technology. He had made some modifications in the course of updating the 2007 yearly report. A sheet detailing the changes had been included in the meeting packet. Discussion was short.
Q: Why was the first bullet left off?
A: It was rather technical, as has been explained.
Q: Could we be more "outcome oriented" and go further than this?
A: Perhaps. It would require more time for a re-write.
Q: Can we change in the second bullet, "ensuring" to "promoting the availability of"?
A: Yes if the Board approves. (Informal agreement by acclamation)

Jim page moved to accept the new vision statement as amended. Christopher Kroot seconded. The Board voted 8 in favor, 1 abstention, none opposed. The motion carried.

3. Subcommittee Reports

Financial
There were no changes to report.

Policy & Marketing
There was nothing to report from the Policy Committee

Technical
Orthoimagery & Parcel Grants
The USGS called Larry Harwood last week and reported that ALL of the remaining orthoimagery including missing tiles from 2003 had been delivered to them by the contractor. The USGS internal review of the orthoimagery has begun and we should start receiving new orthos in April.


The meeting was adjourned at 12:30 PM.