Maine CDC Press Release
December 10, 2009
H1N1 Vaccine Supply Has Doubled, Those at High Risk Encouraged to Get Vaccinated
FOR MORE INFORMATION, PLEASE CONTACT:
Dora Anne Mills, MD, MPH
(207) 287-3266


AUGUSTA - Many people in the high-priority groups could find it easier to get vaccinated against H1N1, said Dr. Dora Anne Mills, Director of the Maine CDC Thursday. The vaccine supply has doubled in the last two weeks in Maine and some public clinics are being planned for those who are at higher risk for the disease.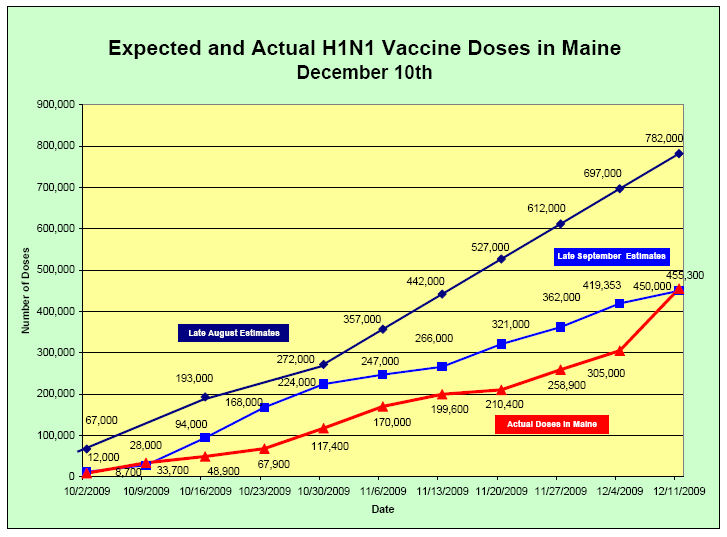 "Although disease activity is declining, we fully expect this virus to circulate for months if not years to come,'' Mills said. "Many more health care providers now have some vaccine and a number of organizations are planning public clinics."
Priority groups for vaccine include all people ages 6 months through 24 years of age; pregnant women; adults 25 through 64 years of age with underlying medical conditions; caregivers of infants less than 6 months of age; and some health care workers, such as those who work closely with children, pregnant women, and adults under 65 with underlying medical conditions. Information on flu vaccine clinics can be obtained by checking http://www.maineflu.gov or by calling 211.
"There are now more than 455,000 doses of vaccine in Maine, which is a sufficient statewide supply for most of those in the high priority groups," said Dr. Mills. "We have now also been able to expand the number of health care providers receiving vaccine for their patients to almost 400.
"Although the disease surge is subsiding, we see signs that H1N1 will be circulating for a long time to come," Mills said.
Two people in Maine died this past week, bringing the total to 13. All are adults with several and mostly very serious underlying conditions, especially those medical conditions involving the lungs such as asthma and emphysema.
Additionally, 31 people were hospitalized this past week, including two children. At one time children made up half of all the hospitalizations. Of the 175 schools with high absentee rates the past few weeks, only one has reported a high rate this past week.
Dr. Mills cautioned that seasonal flu is likely to arrive in Maine at any time. She said that the amount of seasonal flu vaccine continues to increase and several clinics are scheduled.
"Now is an excellent time to get vaccinated if you can so you will be protected now and for the months to come," Mills said.
H1N1 Vaccination Distribution as of December 10:
County
H1N1 Doses
Distributed as of
12/10
% of Population
Covered by Doses as of
12/10
Number of Health Care
Providers with H1N1
Vaccine
Washington
14,100
42%
18
Penobscot
64,200
36%
43
Kennebec
43,900
36%
14
Androscoggin
38,200
36%
33
Aroostook
26,600
36%
22
York
Cumberland
Sagadahoc
177,900
35%
142
Franklin
10,200
34%
9
Piscataquis
5,000
29%
7
Knox
Lincoln
Waldo
33,400
29%
29
Somerset
13,800
27%
11
Hancock
14,400
27%
16
Oxford
13,600
24%
17
STATE
455,300
35%
363