Maine CDC Press Release
May 8, 2012
Maine Physician Chosen as Childhood Immunization Champion
AUGUSTA – The United States Centers for Disease Control and Prevention announced this week that Dr. Lawrence Losey, a board-certified pediatrician at Parkview Adventist Medical Center in Brunswick, has been recognized as Maine's Childhood Immunization Champion. Dr. Losey was nominated by the Maine Center for Disease Control and Prevention and is the first Mainer to earn this distinction.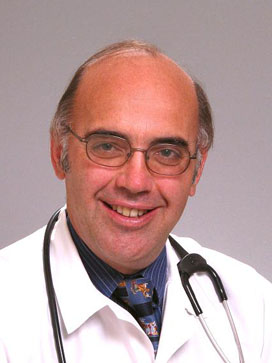 Dr. Lawrence Losey
The announcement was made during National Infant Immunization Week, April 21-28. Since 1994, the last week in April has been designated by the U.S. CDC to recognize the importance of immunization and to deliver a call to action to parents, caregivers and healthcare providers to ensure that infants are fully immunized against vaccine-preventable diseases.
"We are fortunate to have someone of Dr. Losey's caliber championing the causes of Maine's children. His passion to ensure that all Maine children are properly protected against diseases is both admirable and inspiring," said Dr. Sheila Pinette, Director of the Maine CDC.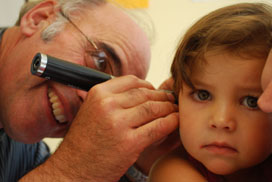 Dr. Lawrence Losey at work
Dr. Losey has published dozens of articles and helped launch Medical Minutes that air on several radio stations in Portland. His segments on childhood immunizations provide an important education for those concerned with immunizing their children."
Dr. Losey earned his medical degree from Loma Linda University (California). He finished his pediatric resident training at Maine Medical Center in 1979. Since then, he has worked tirelessly to ensure that Maine's children are protected from vaccine-preventable diseases.
In the late 1990s, Dr. Losey tapped into his experience with private insurance companies and spearheaded efforts to build a bridge connecting private insurance companies with the Maine CDC Immunization Program to supply most of the early childhood vaccines to all Maine children. For more than seven years he served as a mediator, navigating the way for both the public and private sectors.
This award is not the first honor to come Dr. Losey's way. In 2006, he was awarded the Special Achievement Award of the American Academy of Pediatrics, while in 2007, he received the Thirty Year Service Award of the Maine Chapter of the American Academy of Pediatrics. In 2008, he was honored with the Director's Award by the Maine Immunization Program.

"We are very proud of all of Larry's efforts in helping to improve the lives of Maine's youngest residents. His energy and passion toward ensuring that all children in Maine are fully immunized has truly been inspirational and he has served as an excellent leader and role model to us all," stated Randee Reynolds, Interim President at Parkview. "This award is further proof of what we have known for many years: Dr. Losey is a champion!"