2007 Invasive Aquatic Plant Species Program Report
Date: 1 May 2008
Introduction
Invasive aquatic plants remain a prominent issue in Maine . Woven into the fabric of this state's culture is an appreciation of and dependence upon its natural resources such as high quality lakes streams and ponds. While invasive species are a leading environmental threat to the quality of all New England's inland surface waters, this problem for Maine translates directly into proportionately significant social and economic burdens. Among them are lost recreation, degraded real estate values and escalating vegetation control costs.
The mission of the Maine DEP Invasive Species Program is to reduce risk of introduction and further spread of these plant species in the state's 6,000 ponds, lakes and streams. Now entering our eighth year in these efforts, we have sustained a high degree of public awareness of this issue and continue to enlist significant numbers of volunteers to monitor lakes, inspect boats and offer outreach locally.
We continue to pursue this mission while addressing requests from residents and users of lakes seeking assistance in managing established invasive plant problems. As we strive to increase support in response to these requests, it is incumbent upon DEP to continue to apply proportionately greater resources to prevent plant invasions an option far more cost effective in the long term than mitigating established invasions.
DEP activities are supported through receipt of 60 per cent of revenue generated by the
sale of Maine Lake and River Protection Stickers to Maine resident and non-resident users of inland waters.
As of this writing, 28 inland waters out of Maine's entire lake and stream population are contending with four aquatic invadersVariable-leaf water milfoil ( Myriophyllum hetrophyllum ), Maine also has the hybrid M. heterophyllum x laxum ); Hydrilla ( Hydrilla verticillata ); Curly-leaf pondweed ( Potamogeton crispus ) and Eurasian milfoil ( Myriophyllum spicatum ). Twenty five ponds or lakes have documented infestations of Variable milfoil while fortunately only one infested site exists in Maine for each of the three other pest plants, Hydrilla, Curly-leaf pondweed and Eurasian milfoil.
During the first three years of the Invasive Aquatic Species Program, DEP officials documented one or more aquatic plant infestations per yeareither an incipient infestation or a well-established infestation that had not yet been documented in the Pine Tree State . The 2005 season was exceptional because no new infestations were reported despite more volunteers than ever on the look-out.
In late 2006 three variable-leaf water milfoil infestations were added to the state list of infested sites. Two sitesthe Saco River (Skelton Flowage) and the Little Ossipee Riverwere downstream of already documented dense populations. The third site was a small infestation (one plant) in the Maine/NH border Great East Lake that was removed by a NH volunteer immediately upon its discovery. That quick-thinking and rapid response resulted in no reemergence of the infestation. In 2007 Maine officials took the unprecedented step to remove Great East Lake from its list of infested waters.
The following information overviews DEP activities during 2007:

Courtesy Boat Inspections
A Courtesy Boat Inspection Program remains the most effective way to assure biological threats do not spread while providing opportunity to demonstrate for boaters the importance of taking the time to inspect. Through these courtesy inspections we are promoting a self-inspection ethic, encouraging boaters to inspect their watercraft and trailers leaving boat ramps for hitchhiking plants and other biological debris that are able to migrate from lake to lake.
For the 2007 season inspections increased by over 9,000 to a total of 49,783 a 23% gain from 2006. This high level of prevention is a tremendous achievement for local and regional groups hosting the inspection programs. Boats were inspected both entering and leaving a lake with the majority of inspections (65%) conducted on boats entering. Inspectors logged a total of 26,534 inspection hours in 2007, roughly equivalent to 13 full-time employees.
This increased participation is noteworthy since total inspections amounted to 2,500 at the program's inception in 2001.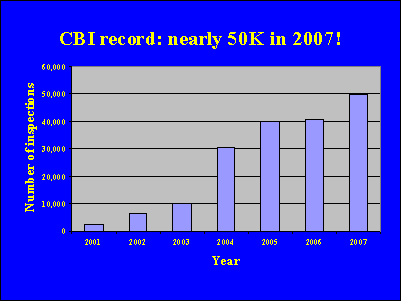 Figure 1
Inspections were conducted at boat ramps on both infested and non-infested waterbodies. The inspections took place at 96 launch sites on a total of 75 lakes (1 more lake than in 2006) and 1 river. Thirteen of these waterbodies are infested with variable water-milfoil ( Myriophyllum heterophyllum ) and one with hydrilla ( Hydrilla verticillata ). Three border lakes on the Maine/New Hampshire line - Balch Pond, Great East Lake , and Northeast Pond - participated in the Maine CBI Program; two of these also participated in the New Hampshire Lake Host Program.
A total of 2.1% of all inspections yielded plant fragments (1069 inspections), little change from past years. Of the 1069 inspections that yielded plant fragments, 170 (16%) of these were invasive plants, primarily variable water-milfoil. Nearly all (94 %) invasive plant fragments (159) were found on boats and equipment leaving infested lakes while 11 invasive plants were recorded entering a lake.
The transmission rate of plants on exiting boats at infested lakes ranged from 0% at six of the fourteen infested waterbodies with inspections to 53% at Lake Arrowhead . The next highest transmission rate was 15% at Pleasant Pond in Richmond . The high rates are likely due to the fact that these lakes have dense plant colonies growing at or near the ramps whereas many of the other infested lakes don't have plants growing nearby. The Route 27 launch on Messalonskee Lake , historically having the highest transmission rate, was permanently closed to motorized boats on July 2, 2007. The closing of this launch contributed significantly to the 60% drop in invasive plant fragments found during inspections in 2007 versus 2006.
For the fourth consecutive year the Courtesy Boat Inspection Program has confirmed instances of invasive plants being intercepted by inspectors prior to launching. Of particular note is the catch of Eurasian water-milfoil ( Myriophyllum spicatum ) discovered on a boat from Connecticut entering Damariscotta Lake . The boater reported previously being on Lake Housatonic , an infested lake in Connecticut . The remaining 10 invasive plants were all variable water-milfoil found on boats entering the following waterbodies: Lake Arrowhead (8); Pleasant Pond (1); and Messalonskee Lake , Route 27 (1). All of these lakes are infested and the boats had previously motored on the same lake. Other reported invasive plant interceptions could not be confirmed by the state program's experts either because condition of the plant did not allow identification or because the suspicious plant was not sent in for identification. These catches are not recorded.
Courtesy Boat Inspectors also provide boaters with sound advice on regulatory compliance. Since 2003, Maine Department of Inland Fisheries and Wildlife (DIFW) has enforced Maine law (fines up to $2,500) upon finding evidence of boat ramp drive-offs with plants still attached to motor props, trailers, etc. Self inspection not only protects Maine 's lakes, it also avoids penalties in the event a boater should encounter a warden.
DEP will continue to support courtesy boat inspections in 2008 using a portion of the funds generated by the annual Lake and River Protection Sticker. In addition, DEP will continue to arrange for inspections at public ramps on infested lakes to reduce the risk of spread between Maine waters. But the long term success of invasive aquatic plant spread prevention efforts will require self-inspection by boaters since the state-supported CBI Program can not maintain the current level of support in perpetuity. Therefore, courtesy boat inspectors are encouraging boaters to self-inspect every time they launch and remove their boat.

Monitoring
The Volunteer Lake Monitoring Program ( VLMP ) is contracted by DEP to train many hundreds of volunteers and state agency personnel on plant identification. Volunteer citizen scientists provide a core force for surveying boat ramps, dock and swimming areas, inlets, coves and other areas of human use for potential invasive plant invasion.
As of this writing, 1650 Plant Patrollers have been trained since 2003 to identify both problem plants and many native beneficial plants as well as to screen lakes for the presence of invasive plants. A record setting 277 individuals attended one or more training events in 2007, 40 of which elected to become certified, bringing the total of Certified Plant Patrollers in Maine to 274.
Volunteers have surveyed 348 lakes since the program's inception. In 2007 alone, 196 surveys were reported. Seventy-two per cent of all invasive aquatic plant surveys were conducted by Invasive Plant Patrol volunteer while the remaining sites were surveyed by state agencies and professionals.
Invasive plant survey data are valuable knowledge since alert and informed citizens have detected nearly every invasive aquatic plant infestation detected in Maine . This was demonstrated by the aforementioned Great East Lake detection of Variable-leaf water milfoil in 2006 and subsequent removal from the Maine list of infested sites. Quick response lends optimism that nascent invasive plant populations can be effectively eradicated from water bodies and that constant vigilance at the local level remains Maine 's first, best tactic for addressing invasive plant species.
MDEP evaluates infested lakes and their neighboring water bodies on a case-specific basis. Often, these monitoring efforts respond to questions and concerns from residents on infested lakes. MDEP Invasive Species Program staff periodically inspects launch ramp areas on infested lakes to keep track of the potential for these high-risk areas to increase plant transmission rates. Program staff also monitors Pickerel Pond in Limerick and Pleasant Hill Pond in Scarborough routinely to assess effects of herbicide treatment conducted in these two water bodies.
Public Outreach, Education
Interagency Collaboration:
DEP and DIFW continued their collaboration on spreading the invasive plant and fish message through brochures to license agents, news media outlets and public speaking opportunities.
DIFW's Highway Advisory Radio AM station broadcasting along Interstate Route 95 in southern Maine provides information 24/7 on milfoil sticker sales, invasive plant laws and the importance of preventing the spread of invasive plants and fish.
Aquatic invasive species information remains in the curriculum throughout DIFW's recreational safety program that reaches hundreds of individuals annually and in training materials for Registered Maine Guide examination.
DIFW responded to DEP's request to post temporary signage at high frequency trout fishing sites in response to the discovery of Didymosphenia geminata (didymo, or rock snot in neighboring New Hampshire and Vermont . Didymo is addressed below.
Media and General Outreach:
There was continued print and electronic news coverage on a broad scope of invasive species issues in 2007 as well as on specific topics such as invasive plant-smothering benthic barriers, removing Great East Lake from the State list for invasive species detections and new threats posed by didymo.
With some facilitation by DEP, lake associations and non government organizations generated most of the media coverage on invasive species issues that drew statewide and local interest.
Signs:
MDEP distributed an additional 16 of its general boat ramp Remove All Plants signs statewide. Infested lakes were posted with special This Lake is Infested signs at boat ramps.
These signs compliment Remove All Plants signs posted at all public boat ramps under authorities of the Maine Department of Inland Fisheries and Wildlife and the Maine Department of Conservation.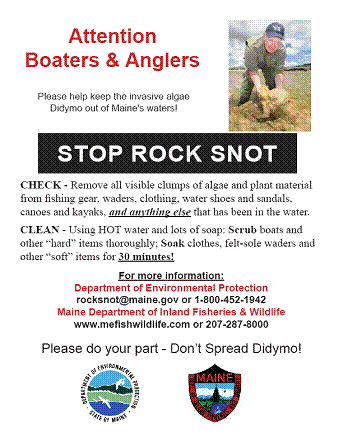 Figure 2
Site Management
DEP encouraged efforts of both volunteers and individuals hired through grants to control variable milfoil with manual techniques on the following water bodies: Lake Arrowhead Lake , The Basin (upstream) of Lake Auburn , Christopher (Bryant) Pond, Hogan Pond , Little Sebago Lake, Sebago Lake , Pleasant Lake (Casco), Pleasant Pond ( Richmond ), Shagg Pond, and the Songo River . Worth recognizing: Residents of Cushman Pond, Thompson Lake , Balch Pond and Range Pond self-funded their own 100 per cent volunteer milfoil control program.
Grant funds requested and awarded for site management totaled $ 60,000.
DEP resumed a fifth consecutive year of herbicide use for the control of Hydrilla in Pickerel Pond, a 46-acre pond containing the state's only infestation of this plant. DEP also monitored results of the previous two years' herbicide treatment in Pleasant Hill Pond, a 28-acre former gravel pit in Scarborough , for control of Eurasian milfoil.
Herbicide use is an extraordinary control option due to the nature of both these aggressive pests and the fact that these are the only known infestations of these species in Maine . Keeping these in check was not possible with other means.
Two SCUBA surveys showed that Hydrilla continued to persist in Pickerel Pond, albeit in a minute number of emerging plants. DEP biologists will likely retreat in 2008 with an objective to deplete in time the seed bank of hydrilla tubers able to repopulate the Pond.
Three SCUBA surveys revealed no reemergence of Eurasian milfoil detected in Pleasant Hill Pond and, therefore, no herbicide was applied in 2007. DEP biologists expect this success to be temporary at best a reprieve for one to three seasons only.
DEP also purchased additional caution-yellow Milfoil Area buoys for eventual deployment by affected municipalities and lake associations.
Maine Department of Conservation delivered on its promise to open a new boat ramp in Sidney on Messalonskee Lake and to limit the Rte. 27 boat ramp for carry-in boat use only. That single action was meaningful; it relieved Maine of the most infested variable milfoil site open to trailered boat use.
Three lake associations built diver-assisted suction harvesters by the end of 2007 with anticipation that another two units will be deployed in 2008. MDEP will continue to collaborate with groups interested in this technology.
New Threat: Didymo
In collaboration with the DIFW, DEP is urging a nglers and boaters using Maine 's streams and rivers to be aware of the aquatic nuisance alga known commonly as "didymo" ( Didymosphenia geminata ) or "rock snot." The diatom has invaded the northern reaches of the Connecticut River in New Hampshire and in the White River and Battenkill River in Vermont . These are the first official reports of the invasive alga in the northeastern U.S.
This highly invasive species has not been detected in Maine fortunately. However, it already affects freshwater rivers and streams in other parts of the U.S. , Canadian provinces of Quebec and New Brunswick , and New Zealand . It is not known at this time how didymo will affect water quality, aquatic habitat and fish populations in Maine , but its potential to alter habitats and displace native species are of great concern to officials in regions where infestations have been established.
It is critical for anglers and boaters to be aware that didymo is easily spread by even just one cell of the alga breaking off and drifting downstream in infested reaches. It is also very easily spread by waders, fishing gear and other gear that touches the bottoms of streams in infested areas, so it is essential to check and clean fishing gear.
MDEP biomonitoring and other scientific field staff added to its standard operating procedure the cessation of use of felt-soled waders in their work statewide. This wader type is an ideal vector for didymo, and the nature of the DEP staff's workin rivers and streams throughout the state in prime candidate watersposes a preventable risk.
Rapid Response
Also in 2007, MDEP obtained a general permit for herbicide use in order to provide rapid response to new and significant aquatic plant infestations. In addition to the development of this permit, changes to current MDEP rules for issuing Waste Discharge Permits occurred in order for a general permit to materialize .
DEP also made provision to move quickly to assess and deploy control means for new infestations using less intrusive methods including diver hand removal and bottom barriers. The MDEP staff help local volunteers identify plants, formulate the best response to infestations, and facilitate required permitting to allow quick local response where warranted.
New Milfoil Sticker
Legislation passed in 2007 will require beginning in 2008 the purchase of a new sticker for owners of Maine-registered watercraft that is automatically combined with the watercraft registration fee. The sticker, which now reads Stop Aquatic Hitchhikers -- Preserve Maine Waters and is physically attached to the Maine watercraft registration, has been required since 2002 for all motorized watercraft on inland waters.
The elimination of the agent fee for sticker sales and automatic compliance by all Maine registered boats on inland waters are expected to generate in excess of $100,000, of which $60,000 will support MDEP activities ($40,000 to DIFW). MDEP will allocate these new monies to support invasive plant control programs on infested lakes.
Owners of non-Maine registered boats will continue to be required to purchase and affix a separate nonresident sticker. Neither type of owner sees new or additional costsjust an automatically combined cost for owners of Maine-registered watercraft.
The Maine Resident sticker is physically attached to the Maine watercraft registration and its $10 cost is combined automatically with the in-state watercraft registration fee. The Nonresident sticker continues to cost $20.
The cost depends on the residency of the boat, not the boater. Out-of-state residents who register their boat in Maine pay the "Resident" sticker fee upon registration.
No sticker is required for operating a boat in tidal waters. The Warden Service determines the boundary between inland and tidal waters on tidal rivers. "Motorized watercraft" includes any boat with any type of motor, including canoes with electric motors and personal watercraft.
As in years past, all revenue generated through the Milfoil Sticker Program goes to a dedicated fund committed to the prevention and control of invasive species in Maine .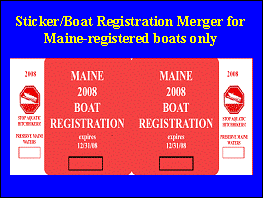 Figure 3A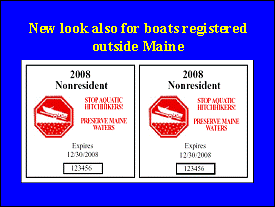 Figure 3B
Conclusion
Invasive aquatic plants are an environmental threat that will persist indefinitely where ever they are established. Prevention remains the first and best option for preserving the quality of Maine inland waters. Meanwhile human and financial resources have leveled off for today and face, along side all other aspects of public services in Maine , a challenging future.
In lieu of new resources, new efficiencies will be needed in order to continue to effectively address invasive aquatic plant problemsbe they in reducing costs of program administration, finding new techniques for plant control or broadening partnerships among those impacted by invasive species threats.
Based upon activities in 2007 alone and by progress demonstrated by public awareness and resolve since the Invasive Species Program was implemented in 2001, the staff of DEP is optimistic that their mission will continue to preserve, for Maine residents and visitors alike, overall lake quality that is the envy of neighboring states and provinces.