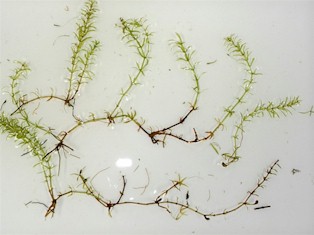 Hydrilla -- Pickerel Pond
In 2002, biologists from the Department of Environmental Protection (DEP) confirmed an infestation of one of North America's most aggressive non-native plants, hydrilla, in Limerick 's 46-acre Pickerel Pond. Maine 's first documented infestation of Hydrilla (a second was found in a .3-acre Damariscotta Lake lagoon in 2009), this stubborn and fast-growing aquatic plant poses fouling problems for swimmers and boaters using that pond. There is also the risk that it may be introduced into nearby lakes and ponds.
First reported by a Pickerel Pond resident, the DEP had initially found that hydrilla covered 60 per cent of the lake bottom from shoreline out to six feet deep. A likely source of introduction was the transport of fragments on trailers and boats from hydrilla-infested waters in other states.
In cooperation with the town of Limerick and the Maine Department of Transportation which owns the only public access, boat access has been limited to hours when a boat inspector is present or by special appointment. Signs were posted at this access point urging boaters and fishermen to remove weed fragments from boat props, trailers and fishing tackle. From 2003 through 2006, a protective outlet screen was installed to catch viable hydrilla vegetation and prevent infestation downstream.
Also, Maine DEP has undertaken its first invasive aquatic plant control program using herbicides. Ongoing since 2003, the objective of this herbicide program has been successfully met each year, reducing hydrilla populations by 95 per cent and thereby preventing further infestation of neighboring waters. Treatment with herbicide was considered only as a last resort and after ample discussion with the community's residents.
DEP biologists survey the entire Pond every year to determine whether another year of herbicide treatment is warranted. They anticipate continued herbicide use in the near future will result in an eventual spend-down of hydrilla's root bank.
Hydrilla is a prolific weed that forms stems reaching up to 30 feet in length. It is able to dominate fresh water ecosystems quickly when fragmented by boat props and by way of winter buds, underground tubers, and surface runners. The aquatic weed also tolerates a wide range of environmental conditions including low light levels, high or low nutrient waters, and freezing temperatures. Hydrilla can not only out-compete native aquatic plants, it can infest a lake more aggressively than variable-leaf milfoil, the most common invasive plant established in Maine .
Efforts to prevent, detect and manage aquatic invasive plants are made possible by boater participation in the Maine Lake and River Protection Sticker program.