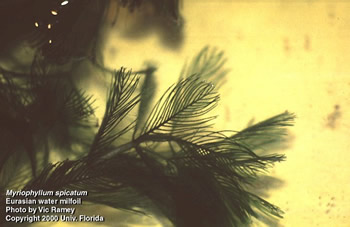 Eurasian Milfoil
Eurasian water milfoil found in Kennebec County lake -- Maine DEP and DIFW engage rapid response plan
Contact: Paul Gregory (207) 441-0627
Image: Eurasian water milfoil, Myriophyllum spicatum
(August 6, 2008) AUGUSTA Confirming an August 1st discovery of Eurasian water milfoil (Myriophyllum spicatum ) in Salmon Lake, a headwater of the Belgrade Lakes region, the Departments of Environmental Protection (DEP) and Inland Fisheries and Wildlife (DIFW) today mobilized their Rapid Response Plan to suppress the aggressive invasive aquatic plant before it has an opportunity to proliferate. The Plan deploys trained personnel, equipment and other resources without delay.
This finding, especially in headwaters of a major lake system, calls for a quick and precise response because Eurasian water milfoil is considered more aggressive than the variable water milfoil which exists in 25 ponds and lakes in Maine , said Paul Gregory, an environmental specialist for the DEP. We have seen in the recent past that a rapid response to a new infestation can significantly limit and even eradicate an invasive species. That's our objective today.
On August 5 th, DEP biologists surveyed the site where the plants were first detected -- a shallow cove between a public boat ramp off Route 8 and an outlet stream leading to Great Pond. Determining that the infestation is sparse in density, a DEP dive team will remove the Eurasian water milfoil by hand on Friday, August 8.
Beginning August 11, DEP will coordinate in-depth surveys of Salmon Lake , an outlet stream leading down stream to Great Pond, and the inlet cove in Great Pond to determine whether the aggressive plant is established elsewhere. Meanwhile, state officials will deploy buoys identifying plant sites, improve signage at the nearby boat ramp, communicate with lake shore residents on appropriate boat usage, and increase the hours of Courtesy Boat Inspections occurring at the boat ramp.
It is extraordinarily fortunate that we discovered this infestation of the highly invasive Eurasian water milfoil early on, said DEP Commissioner David Littell. We are aggressively addressing the containment and removal of these plants following the Rapid Response Plan we developed in 2006. We are also working cooperatively with the Department of Inland Fisheries and Wildlife to control surface water uses in the immediate area of the infestation in order to prevent the spread of this invasive plant. We have been extremely fortunate to have kept this invasive plant at bay thanks to the work of many volunteers and staff at DEP and IFW under Maine 's invasive aquatic plant program.
DEP officials will discuss the infestation, rapid response plan and seek assistance from area residents at the previously-scheduled annual meeting of the Salmon Lake-McGrath Pond Association at 6:30 p.m. Thursday August 7 th at the Belgrade Center for All Seasons in Belgrade .
Also known as Ellis Lake , Salmon Lake 's 695 acres are located in Belgrade and Oakland. The infestation was first detected by Kurt Lakin, a summer resident from Tennessee and a fisheries biologist with first-hand knowledge of Eurasian milfoil.
Only one other water body in the state, a 46-acre gravel pit in Scarborough , is infested with Eurasian milfoil. In total, 29 out of Maine 's 5,700 ponds and lakes contain an invasive aquatic plant species.
Efforts to prevent, detect and manage aquatic invasive plants are made possible by boater participation in the Maine Lake and River Protection Sticker program.